Deepak Bhardwaj murder: India politician's son arrested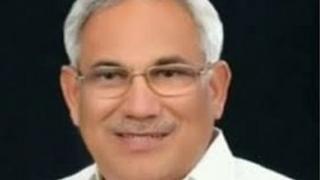 Police in India have arrested businessman and politician Deepak Bhardwaj's son in connection with his father's murder.
Nitesh Bhardwaj was called in for questioning on Tuesday morning. Police said a dispute over property could be the motive behind the murder.
Mr Bhardwaj, 62, of the Bahujan Samaj Party, was shot dead by two men at his house in the capital, Delhi, last week.
There has been no comment from Nitesh Bhardwaj in relation to the case.
Four men including the alleged killers were arrested soon after the shooting.
Mr Bhardwaj's declared assets of more than $110m (£71m) made him the richest candidate when he stood for parliament in the 2009 general election.
He also had major interests in property and ran a school in Delhi.
Reports said that the three men arrived at his house in a car on 26 March - two got out and opened fire at him after a conversation. The third man remained at the wheel and drove them away after the shooting.
Footage of the car and the two gunmen, brandishing their weapons, were captured on a CCTV camera installed at Mr Bhardwaj's house.