Deadly train accident in Indian state of Tamil Nadu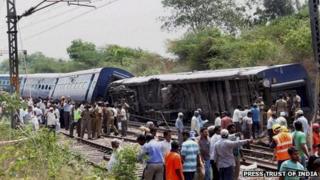 Eleven coaches of a passenger train have gone off the rails in the southern Indian state of Tamil Nadu, killing at least one person, officials said.
At least 21 people were injured when the Yashwantpur-Muzaffarpur express derailed on Wednesday morning.
The cause of the accident is not known. It took place near Arakkonam, 40km (25 miles) from the state capital, Chennai.
Accidents are common on Indian railways, an immense network connecting every corner of the country.
The state-owned railway service operates 9,000 passenger trains and carries some 18 million passengers every day.
Last year, railway officials said train accidents in India had killed 1,220 people over the past five years.