India's anti-rape law judge JS Verma dies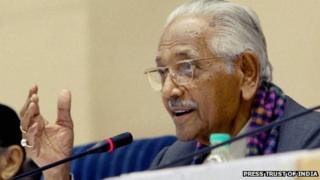 One of India's top judges and former chief justice JS Verma has died near the capital, Delhi, aged 80.
Mr Verma died of liver failure and abdominal problems at a hospital in the suburb of Gurgaon late on Monday.
He recently headed a government-appointed panel to recommend legal reform and other ways to reduce sexual violence after the fatal gang rape of a student in Delhi in December.
Mr Verma was India's 27th chief justice and served from 1997 to 1998.
Prime Minister Manmohan Singh described Mr Verma as a "man of vast understanding and knowledge of law" and said he would miss his "generous advice and guidance on matters of public importance".
Justice Verma's three-member panel to beef up anti-rape laws received 80,000 recommendations, held wide consultations and referred to laws and research from around the world.
'Face of judicial activism'
Its report, submitted to the government in January, paved the way for India's tough new anti-rape laws containing harsher punishment for rapists.
As a top judge he was known for his landmark rulings, including one relating to sexual harassment.
Mr Verma also headed India's National Human Rights Commission, during which he travelled to the western state of Gujarat, where Hindu-Muslim riots left over 1,000 people, mostly Muslims, dead.
Riots erupted after 60 Hindu pilgrims died in a train fire in 2002 and Muslims were blamed for starting the blaze.
The Indian Express newspaper called Mr Verma the "face of judicial activism" in India, saying that he was associated with "many verdicts, campaigns and events".
"He was a colossus among judges. He set very high standards of integrity, which he never digressed from and never permitted anyone else to digress from," former judge Mukul Mudgal wrote in the newspaper.
Mr Verma is survived by his wife and two daughters.