Raped Delhi girl 'recovering' slowly, say doctors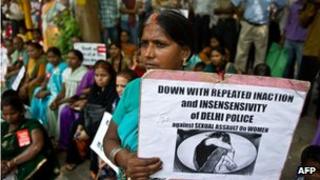 The condition of the five-year-old girl, who was kidnapped and raped in the Indian capital, Delhi, is "gradually recovering," doctors treating her say.
The girl has started taking liquids and semi-solid food and her wounds have begun to heal, they say.
Two men have been held in Bihar state in connection with the incident.
Prime Minister Manmohan Singh has called the assault an example of "depraved behaviour".
There have been protests over the attack in Delhi and activists have demanded the resignation of the the city's police chief for "failure to protect the women".
The little girl was abducted on 15 April and attacked in a locked room for more than 48 hours, police said. She was rescued by neighbours who heard her cries on 17 April.
Doctors at the All India Institute of Medical Sciences said she was showing "signs of gradual recovery" and there was "no danger" to her life.
They said it would take a "few days" for her wounds to fully heal.
One of the two men held in connection with the incident has been remanded to judicial custody, while the other one is being brought to Delhi from Bihar, where he was arrested on Monday.
The issue of sexual violence against women and girls in India has been under intense scrutiny since the gang rape and murder of a student on a Delhi bus in December led to widespread protests.
Six people were charged over the murder, which shocked the nation. Four are on trial in a specially-convened fast-track court and face the death penalty. A fifth suspect was found dead in prison.
The sixth suspect, a minor, is being tried in a juvenile court. All the accused have pleaded not guilty.
Last month India passed a new bill containing harsher punishments, including the death penalty, for rapists.