India businessman Sudipto Sen in court over alleged fraud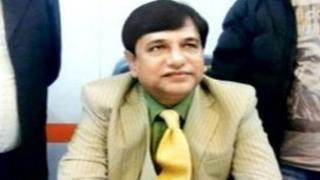 An Indian businessman who allegedly defrauded thousands of depositors has appeared in court.
Sudipto Sen, a West Bengal based businessman arrested in Indian-administered Kashmir, is to be transferred to Calcutta, the court said
Police say he left Bengal after thousands of depositors alleged they had been duped of their savings.
India's market regulator has ordered the group to refund money collected from investors within three months.
Mr Sen's company has been accused of collecting deposits from investors promising attractive returns and then defaulting on payments.
Tens of thousands of investors have been affected, and hundreds of agents employed by the company to collect money have become jobless in West Bengal state, reports say.
Missing
Investors have protested all over the state and attacked offices run by the company.
West Bengal Chief Minister Mamata Banerjee had ordered Mr Sen's arrest after he went missing earlier this month.
Mr Sen and two other company officials were arrested in Sonamarg in Kashmir valley late on Tuesday.
"Their identities have been confirmed," Ms Banerjee told reporters.
Police said Mr Sen had "escaped" from his home in Calcutta on 12 April in an SUV and travelled through different states before reaching Kashmir.
Mr Sen will now be taken by police to Calcutta for questioning.
The Saradha Group, established 12 years ago, which also has interests in real estate, media and exports, ran a company which collected small deposits from investors.
The business came under pressure after the market regulator, the Securities and Exchange Board of India (SEBI), began investigations into how such companies were flouting rules, correspondents say.
Earlier this month, the media wing of the company - which also ran newspapers and TV channels - shut down abruptly, leaving more than 1,000 people jobless.