India: Rajasthan orders CCTV cameras to 'protect widow'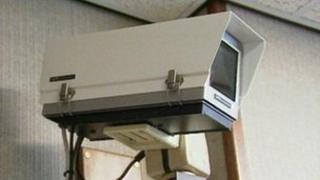 A court in India has ordered the installation of CCTV cameras inside the home of a widow after she complained of mistreatment by her son and daughter-in-law.
The court in Rajasthan state directed the police to watch the footage regularly to "monitor" their behaviour.
Vimla Dhariwal says her son assaulted her and was trying to evict her from her home, a charge which he has denied.
Disputes over property are common in extended families in India.
Many extended families - comprising several generations - live in shared homes and violent disagreements are regularly reported.
But this is believed to be one of the first times that a court in the country has taken the highly unusual step of ordering the installation of CCTV cameras in a house to prevent such disputes.
Analysts say that it is unclear whether the case will set a precedent.
Ms Dhariwal, 72, had told the court that she was being "badly treated" by her businessman son and that he had "beaten her up several times," her lawyer Nadish Singhvi told the BBC.
"He also tried to evict her from her late husband's house," Mr Singhvi said.
The Rajasthan High Court ordered the son to buy CCTV cameras and install them in the house.
It then directed the police to watch the footage once every fortnight to check how her family was behaving with Ms Dhariwal.
The court also ordered Ms Dhariwal's son to deposit in a bank 8,000 rupees ($149; £95) to help his mother "lead a life with dignity".