Sarabjit Singh: Family of Indian 'spy' back from Pakistan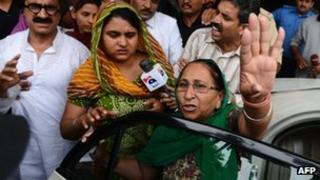 The family of an Indian man who is in a coma in Pakistan, where he has been held since his conviction for spying, has returned to India.
Sarabjit Singh's family said they would try to meet Indian leaders to discuss the possibility of involving doctors from India in his treatment.
Singh, who is in the intensive care unit of Pakistan's Jinnah Hospital, is in a critical condition.
He was attacked by inmates with bricks in Lahore's Kot Lakhpat jail on Friday.
Singh was convicted for spying and sentenced for bomb attacks that killed 14 people in Pakistan in 1990.
His wife Sukhpreet Kaur, daughters Poonam and Swapandeep Kaur and sister Dalbir Kaur, who had gone to visit him in the state-run hospital in Lahore, returned on Wednesday morning.
"We are very disappointed with the Indian government because it couldn't take firm steps to help him," Dalbir Kaur told reporters.
She said she would try to meet Congress party chief Sonia Gandhi and other leaders to press for sending doctors from India to treat Singh.
India has appealed for Singh's release. Pakistan says top neurosurgeons and physicians are providing Singh with the best treatment.
Sarabjit Singh was reportedly attacked on Friday as he and other prisoners were brought out of their cells for a one-hour break.
Two inmates have been charged with attempted murder and two officials suspended.
Tensions have increased in the past six months with the execution in India of Kashmiri Afzul Guru over the 2001 attack on India's parliament, and of Mohammed Ajmal Qasab, a Pakistani who was the sole surviving attacker from the 2008 Mumbai attacks.
Sarabjit Singh's lawyer Owais Sheikh has said his client had received threats after Guru's execution.