Jaya Vindhyalaya: India activist arrested over Facebook post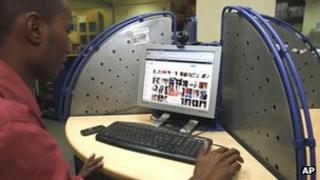 Police in India's Andhra Pradesh state have arrested a human rights activist for allegedly posting defamatory remarks on Facebook against a local politician.
Jaya Vindhyalaya was arrested in Prakasam district on the complaint of legislator Krishna Mohan, police said.
She was produced in court and was remanded in jail for 12 days.
Last year, India issued new guidelines making it harder for the police to arrest people for comments on internet.
The move followed outrage after a series of arrests of people for their comments on Facebook and other internet sites.
Ms Vindhyalaya is the president of People's Union of Civil Liberties (PUCL) in Andhra Pradesh.
She is lodged in a jail at Ongole and could not be reached for comments. Her lawyers have applied for bail.
She has been arrested under Section 66A of the Information Technology Act which is sweeping in its powers - it can send a person to jail for three years for sending an email or other electronic message that "causes annoyance or inconvenience".
Ms Vindhyalaya has defended her remarks on Facebook, senior police officer K Raghurami Reddy told the BBC.
Before her arrest, Ms Vindhyalaya had alleged that Mr Mohan was targeting her due to "political enmity" and had "threatened the local people against deposing before a team of PUCL which had gone on a fact-finding mission against the legislator".
Mr Mohan has denied the charges.
Police say they have written to Facebook to remove the "objectionable material" from her page.
In November 2012, India's Supreme Court asked the government in western Maharashtra state to explain the arrest of two women over a comment on Facebook.
Shaheen Dhada was arrested for her comment following the death of politician Bal Thackeray. Her friend, Renu Srinivasan, who "liked" the comment, was also arrested. The two were later released on bail.
The court also asked the government in West Bengal state and the southern city of Pondicherry to explain similar arrests made earlier.
In April 2012, the West Bengal government arrested Professor Ambikesh Mahapatra, a teacher who had emailed to friends a cartoon that was critical of Chief Minister Mamata Banerjee. He was later released on bail.
In October 2012, Ravi Srinivasan, a 46-year-old businessman in Pondicherry, was arrested for a tweet criticising Karti Chidambaram, son of Indian Finance Minister P Chidambaram. He too was later released on bail.
All the arrests were made under Section 66A.
The arrests led to an outrage with critics accusing the government of "abuse of authority".