India cricket: Rahul Dravid 'devastated' over IPL team arrests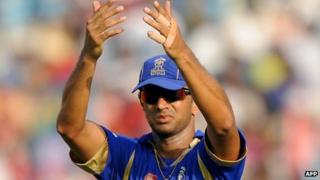 Legendary Indian batsman Rahul Dravid has spoken of his anguish after three players from the team he captains in the Indian Premier league were arrested over allegations of spot-fixing.
The Rajasthan Royals captain said he was "shocked" at S Sreesanth, Ankeet Chavan and Ajit Chandila's arrests.
On Thursday, a court sent the players into police custody for five days.
Sreesanth's lawyer said the allegations were "baseless." The families of the other players said they were innocent.
Fast bowler Sreesanth has represented India in many international games. He has played 27 Tests and 53 one-day internationals.
The cricketers were suspended by India's cricket board. The Rajasthan Royals team said it had "a zero-tolerance approach" to corruption.
Spot-fixing involves illegally rigging parts of a match, for example by timing the delivery of a deliberate wide or no-ball, to benefit bookmakers or those betting on matches.
Police said they had also arrested 11 bookmakers. Indian media reports on Friday said five more bookmakers were arrested overnight.
'Shocked, distressed'
"I am shocked, disappointed and distressed by the events that have resulted in the arrests," Royals captain Dravid said late Thursday night as the team arrived in the southern city of Hyderabad on the eve of their match against Sunrisers Hyderabad.
"Rajasthan Royals is a special team, where we have always operated like a family - so this is particularly devastating," he said.
"For me, as a captain and leader, I have to focus on ensuring that the team fulfil their enormous potential and continue to play in the Rajasthan Royals way. Our players are devastated that our performances may have been affected, as they have a desire to win that has been evident throughout the tournament.
"I hope that our fans get behind us even more, and that we become stronger as a unit - which often happens in times of adversity," he said.
Sreesanth's lawyer Deepak Prakash told the BBC Hindi that the cricketer was "completely innocent", and the allegations against him were "completely baseless".
"No legal evidence of [wrongdoing] has been produced. There is no document, no telephone record [to prove] that he took money," Mr Prakash said.
"I met him today. He said he was arrested while he was returning from a party in his car. He has no idea about this issue."
Sreesanth's mother told BBC Hindi: "I have full faith in him, he would never do anything like this," Savitri Devi said.
The families of the other two cricketers also spoke out.
"Why will he do this? He is at the peak of his career. He performed brilliantly for Mumbai and this is his best season so far," Chavan's brother Nihar told the Indian Express newspaper.
Sarita, Ajit Chandila's wife, told the Press Trust of India: "He has nothing to do with spot-fixing. He is innocent. He has been framed due to politics... He has been performing well this season, which has made people jealous."
At a press conference on Thursday afternoon, Delhi police chief Neeraj Kumar provided details of what he called the "spot-fixing scam".
He said the codes the players used to communicate with the bookmakers included "rotating their watches, putting towels in their pants, taking out locket from shirt, taking out shirt and vest that you're wearing, make signs with jersey".
Mr Kumar alleged incidents of spot-fixing took place in three matches: against Pune on 5 May, Punjab on 9 May and Mumbai on 15 May.
Richest tournament
Correspondents say that as the news of the arrests broke on Thursday, there was shock in India where cricket is often treated on a par with religion.
The president of Board for Control of Cricket in India N Srinivasan told reporters that he was "shocked" by the developments which he described as "a bolt from the blue".
The Rajasthan Royals team is owned by Bollywood actress Shilpa Shetty and her businessman husband Raj Kundra. They issued a statement saying they had been "completely taken by surprise".
The team promised to "co-operate with the authorities to ensure a thorough investigation".
The sixth season of the IPL, which is considered to be the world's showcase for Twenty20 cricket, is currently under way in India.
Top India and international players take part, contributing to what is the world's richest cricket tournament.
The scandal is the latest to affect cricket.
Last year, Indian cricket officials suspended five players after a sting by undercover TV reporters purported to show cricketers agreeing to bowl no-balls and spot-fix matches.
And in 2011, three top Pakistani players - Salman Butt, Mohammad Asif and Mohammad Amir - were banned after they were found guilty of involvement in a betting scam.