Sanjay Dutt: India Bollywood actor takes shampoo, mattress to jail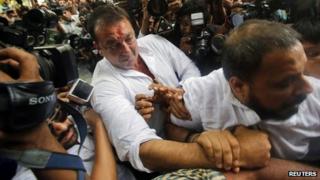 Bollywood star Sanjay Dutt has been allowed to take a mattress, pillow, fan, toiletries and mosquito repellent to jail with him.
The court also allowed the actor access to medicines and food from home during his stay in the prison.
On Thursday, the actor returned to jail to finish his sentence for firearms offences linked to blasts which killed 257 people in Mumbai in 1993.
He has already served 18 months of his five-year term.
He was convicted for illegally possessing a rifle and a pistol which he bought from the bombers.
He had sought to delay his return to prison to finish a number of films, but the court rejected his appeal.
On Thursday night, the actor was sent to Mumbai's Arthur Road prison and Indian media reports say he is expected to be soon moved to Pune's Yerwada prison where he will spend the rest of his sentence.
The court allowed the 53-year-old actor to take with him copies of the Bhagvad Gita, Ramayan and Hanuman Chalisa - all Hindu religious texts - in addition to toiletries, including toothpaste, shampoo, slippers and clothes.
But Judge GA Sanap rejected Dutt's request to take an electronic cigarette with him, Press Trust of India reported. Instead, the judge advised him to quit smoking, it said.
Dutt was convicted in 2006 of buying arms from the bombers but cleared of conspiracy. The attacks left 713 others injured.
The son of a Hindu father and a Muslim mother, Dutt said the weapons were necessary in order to defend his family during the Hindu-Muslim rioting of 1993 which followed the destruction by Hindu zealots of the Babri mosque in the northern town of Ayodhya.
Dutt, one of Bollywood's most bankable stars, is hugely popular for his role as a lovable gangster in the Munnabhai movies. He has also dabbled in politics.
In 2006, a special anti-terror court convicted 100 people for the blasts. Twelve were given the death penalty and 20 others sentenced to life imprisonment.
Dutt, the most high-profile among the convicts, was originally charged with five offences, including criminal conspiracy and possession of illegal weapons.
In March 2013, India's Supreme Court upheld his conviction, but reduced his sentence from six to five years.