Indian media: Floods tragedy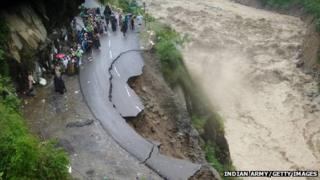 Media in India are telling stories of personal tragedies caused by the monsoon floods in the northern parts of the country.
More than 150 people have died and nearly 60,000 are stranded in the northern states of Uttarakhand and Himachal Pradesh following heavy rains and landslides, reports say.
The large concentration of people in the region is due, in part, to the mountainous states' popularity among tourists and pilgrims.
Delhi resident Jagmohan Rawat told the Hindi daily Dainik Jagaran that he managed to get back from the hills safely, but only after seeing "death up close and personal".
Mr Rawat had travelled with his family to Uttarakhand for a pilgrimage when their bus fell into a ditch after a sudden landslide.
The family were trapped in the bus for hours before being rescued, the paper said.
Kalyan Singh, from the northern state of Rajasthan, tells the Amar Ujala how he had to watch his wife being swept away by the gushing waters.
Mr Singh, who was on a pilgrimage to the holy town of Badrinath, said he took refuge on the third floor of the hotel where he was staying as the first two floors were submerged.
He lost the grip on his wife's hand and before he could do anything, flood waters swept her away along with two others.
Sumit Bansal, a tourist from Maharashtra state, tells the paper how he spent two nights on a hill and saw many die in "the most horrifying disaster" he had even seen.
Mr Bansal along with his wife, eight-month-old daughter Kritika and two-year-old son Divyam survived for 24 hours only on biscuits before they were rescued.
The Times of India says many people have not been able to get in touch with their relatives and friends in Uttarakhand and Himachal Pradesh as phone lines are down and most mobile phone batteries have run out.
Mukesh, a resident of Uttar Pradesh state, tells The Indian Express that his mother called him on Tuesday to inform him about his father's death in Badrinath.
He tells the paper that his mother is "helpless and sitting with the body of his father all alone and in shock".
'Human greed'
Newspapers are also highlighting how rampant construction in the two states has contributed to the disaster
"Ecologists point out that the huge expansion of hydro-power projects and construction of roads to cope with the lakhs [hundreds of thousands] of tourists in Uttarakhand and Himachal Pradesh has compounded the scale of the disaster," reports the Deccan Chronicle.
The Hindustan Times says the disaster "was only magnified by illegal construction, deforestation and encroachments".
"Environmentalists have now started reiterating that 'man-made' factors such as construction of hydel (power) projects, haphazard urbanisation and mining into the riverbed could not just compound the scale of destruction in such cases, but also result in more such incidents in the days to come," says The Tribune.
There is some sad news for animal lovers - a white tigress called Khushi has died of septicaemia at the Delhi zoo after giving birth to four cubs, the Zee News reports.
"She (tigress) managed to deliver one cub alive, while two were stillborn. Another one was stuck inside her womb, which caused the infection," the paper quoted the zoo curator RA Khan as saying.
The cub, which was delivered alive, also died after a few hours, he said.
Staying with news from Delhi, the Hindustan Times reports that the police have brought together over 20 children from impoverished mining families to build a music band.
"They have performed in various schools and now we are preparing them for big events," a police officer told the paper.
And finally, Hollywood actor Jackie Chan says he is willing to work at a discount if offered a well-scripted Bollywood film, according to another report in the paper.
BBC Monitoring reports and analyses news from TV, radio, web and print media around the world. For more reports from BBC Monitoring, click here. You can follow BBC Monitoring on Twitter and Facebook.