India floods: Last stranded pilgrims rescued in Uttarakhand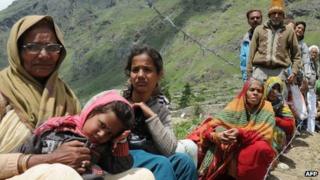 The last of the pilgrims stranded after the recent floods in the Indian state of Uttarakhand have been evacuated, bringing to an end one of the world's largest air rescue operations.
More than 100,000 people have been rescued from the Himalayan mountains after floods and landslides that left more than 800 dead.
At least 3,500 people have been officially confirmed as missing.
But authorities say the exact number of deaths may never be known.
The National Disaster Management Authority (NDMA) said more than 11,000 were feared missing.
"The number of missing stands at 3,500 to 3,700 but a report prepared by a UN agency along with some NGO pegs the figure in excess of 11,000," vice-chairman Shashidhar Reddy said.
Army evacuations
This year's early monsoon rains in the Uttarakhand region are believed to be the heaviest in 80 years.
Swollen rivers have swept away entire villages in the state, where there were many travellers in what is peak tourist season.
Some 4,200 villages are thought to have been affected by the rains and floods, according to the NDMA.
The last pilgrim stranded in the temple town of Badrinath has been brought down safely, bringing to an end the rescue operation, Indian army spokesman Brigadier Uma Maheshwar told the BBC.
Tens of thousands of people, mostly tourists and Hindu pilgrims, have been evacuated by military helicopters in the last 17 days.
One Indian air force rescue helicopter crashed during the operation, killing all 20 people on board.
Officials say many bodies may have been washed away or remain buried under debris. Some of the bodies were recovered in rivers downstream from the flood zone.
Distraught relatives clutching photographs of missing family members have been waiting for days in the state capital, Dehradun, hoping for news.
Meanwhile, the administration is struggling to provide relief to the local communities in remote areas where thousands who have lost their homes are living in temporary camps.