Delhi rape: Trial of 17-year-old suspect concludes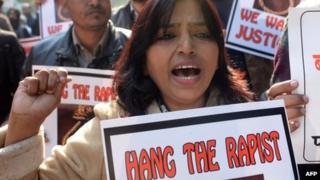 The trial of a 17-year-old, accused in last December's fatal gang rape of a woman on a bus in Delhi, has concluded.
The Juvenile Justice Board will give its verdict on 11 July. The boy was charged with rape, murder and other crimes, including kidnapping.
If convicted, he faces a maximum of three years in a reform facility.
He has denied the charges - as have four other suspects on trial at a specially convened fast-track court. They face the death penalty.
A sixth suspect was found dead in jail. Prison officials said they believed he hanged himself. Defence lawyers and his family allege he was murdered.
The brutal assault shocked India and sparked a debate over the treatment of women in the country.
The victim, a physiotherapy student who cannot be named in India for legal reasons, and a male friend were attacked on a bus on 16 December.
Police said the assailants beat both of them, and then raped the woman. She suffered massive internal injuries and died nearly two weeks later.