Bollywood's Shah Rukh Khan denies 'sex test' claims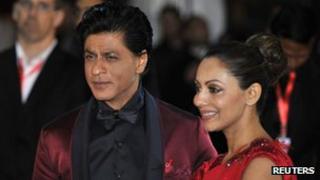 Top Bollywood star Shah Rukh Khan has strongly denied any "irregularities" surrounding the run-up to the birth of his son in May.
A statement issued by the actor vehemently denied newspaper allegations that the couple carried out a pre-birth sex determination test.
Gender tests before birth are illegal in India where baby boys are sometimes preferred over baby girls.
The actor said that the speculation was "grossly insensitive".
AbRam Khan was born several months premature using a surrogate mother.
'Completely false'
"Just to put the record straight there was no sex determination for our child," Shah Rukh Khan's statement said.
"The baby was born much before the speculation of 'sex determination' and other 'issues' pertaining to the same were being raised in the media.
"Suffice to say his coming home puts to rest completely false and at times insensitive claims of sex determination and alleged illegalities."
The actor also apologised in the statement to "doctors and hospitals who had to face unwanted scrutiny and questioning by some parties". He also appealed for both mother and child to be granted some privacy.
Last month Maharashtra state health minister Suresh Shetty instructed officials to conduct an inquiry into the pregnancy after an Indian medical association called for an investigation into the sex determination allegations.
Correspondents say that India's ban on sex tests is part of attempts to reduce female foeticide which distorts the country's gender balance because of the general cultural preference for boys.
Shah Rukh Khan, one of Bollywood's best known actors, co-hosted India's film awards on Sunday.
He and his wife Gauri already have two teenaged children, a boy and a girl.