Indian media: 'Indifference' to children's health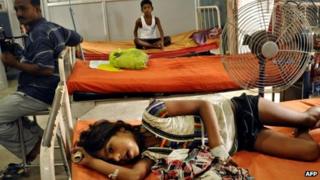 Media in India are criticising the government's "indifference" towards the health of children in state-run schools after 22 students died from eating contaminated free meals in the eastern state of Bihar.
They were among dozens taken to hospital after consuming a free Mid-Day meal on Tuesday in the state's Chhapra district.
The Mid-Day Meal Scheme was introduced to combat hunger and boost school attendance, providing free food, but often suffers poor hygiene.
It covers 120 million children in 1.2 million schools across the country, the government says.
"The Bihar horror clearly points to the absence of strong normative procedures for the provision of infrastructure, even for a new school," The Hindu reports.
"Such inefficiency and indifference is deplorable, considering that the centre has been levying a cess on taxes, part of which is given to states to strengthen the Mid-Day Meal Scheme," it adds.
Hindi daily the Dainik Jagran feels that the incident shows the "insensitivity" and "irresponsibility" of the authorities towards children in government-run schools.
The Deccan Herald highlights the need to review the "safety and hygiene aspects" of the Mid-Day meal programme and calls upon the federal government to take "corrective measures".
'I Respect Women'
In another tragic incident, an eight-month-old baby died at the state-run Ballia district hospital in the northern state of Uttar Pradesh after a rickshaw-puller allegedly gave him an injection.
A doctor had prescribed him a life-saving injection and asked the pharmacist to administer it on Tuesday. But the pharmacist allegedly asked the rickshaw-puller, who usually ferries bodies, to do so, reports The Times of India.
Meanwhile, the Cabinet Committee on Security (CCS) has approved the formation of a new strike force to be deployed along the China border.
"The proposed strike corps will give the army the capability to launch offensive action in the Tibet Autonomous Region (TAR) in case of any misadventure by Chinese forces," The Hindustan Times reports.
Moving on to business, India's first all-women bank, the Bharatiya Mahila Bank, is all set to start functioning in November, The Indian Express reports.
"The bank will open with six branches - one each in the four metro cities, the fifth in central India and the sixth in the northeast, with headquarters most probably in Delhi," the paper adds.
And finally, the tourism ministry has asked autorickshaw (tuk tuk) drivers to wear "I Respect Women" badges, The Telegraph reports.
"Anyone wearing this badge is standing up and declaring that he will always respect women. That he cannot be counted among the people who assault women," the paper quotes Tourism Minister K Chiranjeevi as saying.
BBC Monitoring reports and analyses news from TV, radio, web and print media around the world. For more reports from BBC Monitoring, click here. You can follow BBC Monitoring on Twitter and Facebook.