Indian media: Controversy over Narendra Modi visa letter
25 July 2013

From the section

India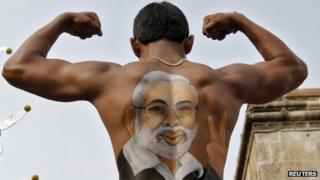 Media in India are discussing the controversy over a letter allegedly written by 65 MPs to US President Barack Obama, asking him not to issue a visa to controversial politician Narendra Modi.
Mr Modi is a senior leader of the main opposition Bharatiya Janata Party (BJP) and chief minister of the western state of Gujarat.
Newspapers say at least nine MPs have denied signing the letter, written in November 2012.
The BJP has demanded an inquiry into the incident, accusing the Congress party of using "dirty tricks" against Mr Modi.
"The denial by some MPs of having written to Obama shows that this is a clear conspiracy of the dirty tricks department of the Congress. Some MPs have said their signatures were forged. There should be a thorough probe into the matter and the guilty should be booked," The Pioneer quotes BJP spokesperson Prakash Javadekar as saying.
Among the MPs who deny writing the letter is Sitaram Yechury, a senior leader of the Communist Party of India (Marxist).
"I don't remember having signed any such letter," Mr Yechury says, according to The Asian Age.
Meanwhile, papers are also reporting the Delhi high court's deadline to civic agencies to unclog all drains in the capital "on a war footing" as monsoon rains continue to cause massive flooding in the city's streets.
The court on Wednesday said it would summon the civic agencies' chiefs if action was not taken, reports The Times of India.
Al-Qaeda leader's poem
In a development that has kicked off a controversy in the southern state of Kerala, a poem written by a senior al-Qaeda leader during his detention in Guantanamo Bay has been included in the syllabus by Calicut University, reports the India Today website.
The poem - Ode to the Sea - written by Ibrahim al-Rubaish is part of the Literature and Contemporary Issue Studies course.
What has "angered" teachers and students is that the text gives all the details about the poet except his "terror links", says the Hindustan Times.
Critics say they cannot fault the poem's content but there are fears that "it may send wrong signals", the report adds.
In sports news, India's cricketers have won the first in the five-match series against Zimbabwe in Harare, reports The Hindu.
Riding high on a century by captain Virat Kohli, India beat Zimbabwe by six wickets on Wednesday.
In bad news for Salman Khan fans, several papers have published front-page reports on the Bollywood actor being charged with culpable homicide by a Mumbai court for a hit-and-run incident 10 years ago, reports the NDTV website.
Khan has pleaded not guilty, but if convicted, he faces up to 10 years in prison. The trial will begin on 19 August.
BBC Monitoring reports and analyses news from TV, radio, web and print media around the world. For more reports from BBC Monitoring, click here. You can follow BBC Monitoring on Twitter and Facebook.