Indian media: JNU attack shows 'women unsafe in Delhi'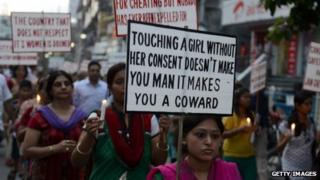 Media feel an attack on a female student at a prominent Delhi university shows women are not safe in India's capital.
Akahsh Kumar, a 20-year-old student at Jawaharlal Nehru University, on Wednesday attacked a classmate with an axe and later killed himself by consuming poison, reports say.
Newspaper reports suggest he was upset with his classmate after she "spurned his advances".
The Hindustan Times feels this case "is just the tip of the iceberg of a range of crimes against women in a city notorious as the rape capital of India".
"What's worrying is the recent upswing in cases of molestation and stalking. Wednesday's attack on a student by a jilted lover, and his subsequent suicide, have also drawn attention to the easy availability of illegal firearms on the campus," says The Times of India.
The Pioneer feels that women have a right to say no to advances made my men and highlights a string of recent cases of rape and attacks.
The gang rape and murder of a student on a Delhi bus in December had sparked protests across India.
Meanwhile, Prime Minister Manmohan Singh says he needs strong "political support" to bring in reforms to boost the struggling economy.
"In a democracy, reform - be it of economic policy or of institutions - is essentially a political process. We have to build a sufficiently wide political consensus in favour of the policies we wish to adopt," The Indian Express quoted him as saying.
Mr Singh's government has faced strong resistance from coalition partners in the past few months on some key economic reforms - such as foreign direct investment in the retail sector.
Meanwhile, author Shobha De is being criticised by some political parties for her Tweet on declaring Mumbai as a "separate entity".
"After Telangana, many people in Maharashtra are overjoyed and are clamouring for a separate Vidarbha or a separate Mumbai. If they cannot respect Maharashtra, we shall teach them how to do so," the Mid-Day newspaper quoted Shiv Sena party spokesman Sanjay Raut as saying.
Ms De, however, later clarified that it was a satirical Tweet in the context of the newly-proposed Telangana state in southern India and should not be taken literally since she was neither recommending nor endorsing a separate Mumbai, the paper adds.
And in some tragic news, at least 27 people are feared dead after a bus plunged off a highway and fell into a canal in Fatehgarh Sahib district in the northern state of Punjab on Wednesday, The Times of India reports.
Musical delight
Meanwhile, music lovers will be delighted to learn of a free online archive of more than 1,000 rare audio recordings dating as far back as 1902, The Times of India reports.
The archive has been put together by writer Vikram Sampath and spans various Indian musical genres, in addition to traditional theatre and speeches.
"A lot of this material was lying around rotting and I was keen not just to salvage it but also democratise its usage," the paper quotes Mr Sampath as saying.
Elsewhere, a group of college students from all over India is cycling from the country's southernmost point of Kanyakumari to the Pakistani capital, Islamabad, on a "peace mission", The Tribune reports.
"We are on a mission from Kanyakumari to Delhi to Islamabad to spread the idea that 'We love our neighbour Pakistan'," says convenor Praveen Singh.
On reaching the border, the group will be joined by a Pakistani team which will accompany them to Islamabad.
And finally, young green activists from Delhi have planted the city's first "urban mini-forest comprising only indigenous trees", The Hindu reports.
"We thought of doing something novel," says Deeksha Bhatia, one of the leaders of the initiative, which is expected to result in a dense forest in three years' time.
BBC Monitoring reports and analyses news from TV, radio, web and print media around the world. For more reports from BBC Monitoring, click here. You can follow BBC Monitoring on Twitter and Facebook.