Indian media praise 'historic' Delhi gang rape verdict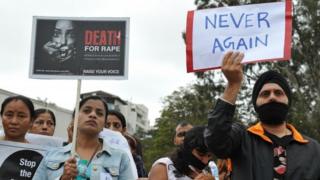 Media and activists in India have welcomed the "historic" guilty verdict in the Delhi gang rape case, but feel the government, members of the public and police need to do more to ensure safety of women in the country.
A court in Delhi on Tuesday found four men guilty of the fatal gang rape of a student in the capital last December.
The 23-year-old woman was brutally assaulted on a moving bus and died two weeks later.
The men are expected to be sentenced on Wednesday.
India's judicial system is known for its slow pace as more than 30 million cases are pending in high and district courts.
But activists and papers praise the government for fast-tracking this case and feel the speedy justice "has set a precedent".
"The fast track court has set a precedent in such cases. Instead of dragging it for years, the verdict is out in around nine months. Our faith in the judiciary has been restored," The First Post website quoted prominent activist Denson Joseph as saying.
Senior lawyer Karuna Nundy also said the trial "was fast enough".
"The court had to make sure that the judgment was robust enough and these were the actual culprits. I think it would have been difficult to conclude the trial in a shorter period, considering that there were more than hundred witnesses in this case," The Mail Today quotes her as saying.
The Delhi police have also received praise for their "speedy investigation" into the case.
Judge Yogesh Khanna of the special fast-track court said the investigation was "buoyed by exceptional initiative" by the police, the NDTV website reported.
Echoing similar sentiment, Chhaya Sharma, senior police officer who was involved in early investigations, said the judgment had "boosted the morale of officers and men of Delhi police".
She said the verdict was a "landmark decision which has set a very high benchmark for investigations in the future", The Times of India reported.
Will it deter others?
Most papers and activist feel the authorities need to do much more before Indian cities, towns and villages can be termed safe for women.
"The case was a watershed moment for Indian society. Its trauma changed social attitudes towards rape, shifting shame and blame from female survivors onto male criminals. However, for this to find social fruition now, our authorities must show unambiguous strength in policing rape and punishing perpetrators. Only then can victim's family have closure. And only then can our society aspire to times when no woman suffers what this victim did," The Times of India says.
The paper adds that this verdict "has implications beyond this crime and its punishment".
"Alongside ensuring that the victim's tormentors are thoroughly penalised, it is vital to ensure that our society never suffers another such torment," it says.
The Hindustan Times says the Delhi court has set a precedent in this case, but argues that real change will come only if women feel safe in small towns and villages and for that the "government must fast track all rape cases".
"What about the thousands of rapes that take place in smaller towns or villages? Many find even filing an FIR [police complain] a challenge. Add to this, there are other roadblocks: proper investigation of the case as well as forensic examination. These challenges too need to be ironed out if we want to change things as they stand now,"
BBC Monitoring reports and analyses news from TV, radio, web and print media around the world. For more reports from BBC Monitoring, click here. You can follow BBC Monitoring on Twitter and Facebook.