India widows appointed Hindu temple priests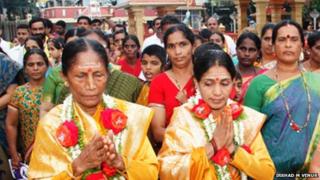 Two widows have been ordained as priests in a centuries-old Hindu temple in the southern Indian city of Mangalore in Karnataka state.
Lakshmi and Indira formally began performing rituals at the Kudroli Shree Gokarnanatheshwara Temple on Sunday.
Hundreds watched the ceremony and musicians played as the widows entered the temple in a grand procession.
The move is considered revolutionary in a society where widows are seen as inauspicious and normally shunned.
"It is a historic moment. We will get more widows to become priests," said Janardhana Poojary, former federal minister and the man behind the reform.
Mr Poojary said he would talk to the state authorities to appoint more widows in government-aided temples across Karnataka.
"There should not be any constraints on widows from offering prayers. No widow should be discriminated against because of her marital status," he told reporters after Sunday's ceremony, which was attended by Hindus, Muslims and Christians.
The widows, who have been trained in scriptures for four months, will be paid a monthly salary and will be looked after by the temple management.
Kudroli temple authorities say they appointed Lakshmi and Indira in order to change the mindsets and most people in the state have welcomed the move.
"It gives me joy to see them being greeted by devotees," said Anil, a student who felt social transformation was necessary to make the country modern.
But in a country where traditionally widows have been kept away from temple rituals, there have been murmurs of protests from some hardline groups.
The temple was set up by a revered Hindu seer Narayan Guru, a 19th Century social reformer from the neighbouring state of Kerala.