Indian media upbeat on Russia ties after Manmohan Singh's visit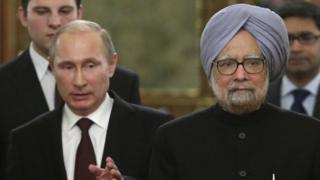 Media in India feel Prime Minister Manmohan Singh's visit to Russia has further strengthened relations between the two nations.
Mr Singh met Russian President Vladimir Putin on Monday as the two countries agreed to boost cooperation in defence, trade, security and energy sectors.
India was expected to sign a key deal on seeking Russia's help in setting up two nuclear plants in Kudankulam in the southern state of Tamil Nadu.
The deal did not go through but Delhi and Moscow agreed to iron out issues in the near future.
"In a bid to overcome legal hitches that have held up a deal on two new plants at the Kudankulam nuclear power complex over liability provisions, India and Russia pledged to 'resolve all outstanding issues' related to the project even as they decided to elevate their strategic ties to new levels in defence and other area," says a report published in The Economic Times.
India's liability law stipulates that nuclear firms aiming to set up plants in India will have to pay huge sums of money in case of an accident.
But the failure to sign the deal has not affected cordial ties between the two nations and their leaders.
"The personal chemistry between Mr Singh and Mr Putin was evident from a Tsar-era gift the Russian president gave Mr Singh and in the finesse with which they glossed over the failure to ink contracts relating to Kudankulam units 3 and 4," says The Times of India.
The two also agreed to boost cooperation in fighting global terrorism.
"Both sides affirmed the need to join efforts of all states to defeat terrorism. They condemned terrorism in all its forms and manifestations and agreed that there should be no tolerance for sheltering, arming, training or financing of terrorists," a joint Russia-India statement says.
Indian newspapers are also highlighting Mr Singh's statement in which he said "no country has had closer relations with India and no country inspires more admiration, trust and confidence among the people of India than Russia".
Mr Singh is visiting China on Tuesday where he is expected to sign a key border pact with Beijing, says the Hindustan Times.
Meanwhile, Chief Minister of Indian-administered Kashmir Omar Abdullah has urged the government to consider "other options" while dealing with what India calls ceasefire violations by Pakistan, if talks are not proving helpful, the First Post website reports.
Papers are reporting "frequent cross-border firing by Pakistani troops" along the Line of Control that divides the disputed region of Kashmir between the two countries.
Papers are also criticising Pakistan PM Nawaz Sharif's attempt to get the US involved in the Kashmir dispute.
"Mr Sharif was thought by some to represent a new vision of India-Pakistan relations. So far, evidence for this is hard to find," the Hindustan Times says.
Safety of cyclists
Cyclists and pedestrians account for more than half of all road accident-related deaths in India but the police and public are unconcerned, according to a new study, reports The Hindu.
Papers are discussing cyclists' safety after prominent environmentalist Sunita Narain was injured in a cycling accident in Delhi on Sunday.
Elsewhere, street vendors in Delhi have launched a catering service in an attempt to make their food more hygienic, reports The Times of India.
Arbind Singh, the president of the National Association of Street Vendors of India, says the new service will monitor the quality of food being served as well as help vendors expand their business.
Although very popular, street food in Delhi is often considered unhygienic.
And finally, legendary cricketer Sachin Tendulkar is making preparations for his wheelchair-bound mother to watch his 200th and final Test match on 14 November in Mumbai, reports The Indian Express.
The batsman, who has announced retirement from all forms of cricket after this match, has asked authorities to prepare a ramp so that his mother can reach the stadium, the report adds.
BBC Monitoring reports and analyses news from TV, radio, web and print media around the world. For more reports from BBC Monitoring, click here. You can follow BBC Monitoring on Twitter and Facebook.