Patna blasts: India investigators find explosives in Jharkhand hotel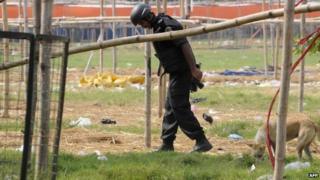 Police in India's eastern state of Jharkhand say they have recovered bombs fitted with timers from a small hotel.
The bombs were similar to the ones used in attacks on a crowd at an opposition rally in the neighbouring state of Bihar last month, a senior police official said.
Six people died in the Patna blasts and 102 others were wounded.
The blasts took place near a park where prime ministerial hopeful Narendra Modi was due to speak.
No group has said it carried out the attacks.
Police said they raided a small hotel in the Hindpiri area of Jharkhand's capital, Ranchi, and seized nine bombs fitted with timers on Monday night. Bomb disposal experts later defused the explosives.
"The bombs matched those used in the blasts in Patna," senior police official Saket Kumar said.
Officials say the explosions in Patna were caused by crude, home-made bombs and were "low-intensity".
Reports said that the federal National Investigation Agency and the Jharkhand police raided the hotel after a tip off that one of the main suspects in the Patna blasts had rented a room there.
Police said they had detained the father and brother of the suspect after the raid.
Last week a man who was arrested in connection with the blasts in Patna died in hospital of injuries sustained in one of the explosions.
The man had been in a coma after the bomb he was carrying exploded near the toilet of the railway station.
Mr Modi, who is campaigning ahead of next year's general election, addressed the rally at Gandhi Maidan after the blasts.
One of the most polarising figures in Indian politics, he was criticised in 2002 for doing little to prevent religious riots in his home state, Gujarat, in which more than 1,000 people, mostly Muslims, died.
Mr Modi has always denied any wrongdoing and he is also widely admired for making Gujarat one of India's most developed states.