Narsingh Malaviya: India politician's suicide over failed poll bid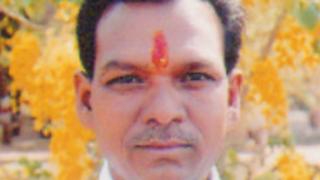 A Congress party politician has killed himself after failing to secure a nomination for the forthcoming assembly elections in the central Indian state of Madhya Pradesh, police said.
Narsingh Malaviya took poison at his home in Agar town in Ujjain district on Thursday. He was taken to hospital in a serious condition, where he died.
Reports said he had been suffering from depression for the past few days.
Elections to the state assembly are due on 25 November.
Protests by aspiring politicians on being denied nominations are common, but correspondents say reports of suicides are rare.
Mr Malaviya was disappointed after the Congress party nominated Madhu Gehlot from Agar constituency, reports said.
On Tuesday, he had burned an effigy to protest against the party leadership.
Reports say this is the second time his demand for nomination was rejected.
"I had put Mr Malaviya's name in the list of nominations, but he was not chosen and the party nominated someone else," Congress MP from Ujjain Sajjan Singh Verma told BBC Hindi.
"Mr Malaviya was an emotional man. He took this extreme step in disappointment which is very sad," Mr Verma added.