Narendra Modi BJP rally: tight security for key speech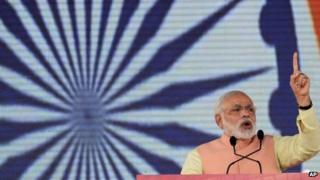 Indian Prime Ministerial hopeful Narendra Modi has addressed a rally amid tight security - his first since a bomb attack at a previous rally in Bihar state killed five people.
Mr Modi used the rally in Uttar Pradesh to denounce his political opponents.
Reports said that more than 1,000 policemen were deployed for the rally in Bahraich.
Mr Modi's Hindu nationalist Bharatiya Janata Party (BJP) is trying to unseat Congress in elections due in 2014.
On 27 October several explosions detonated at a park in Bihar's state capital, Patna, where Mr Modi was about to speak. Dozens of people were wounded. No group has said it carried out the attacks although a number of arrests have been made.
Mr Modi eventually addressed the rally at Gandhi Maidan after the blasts.
His security has become a subject of controversy with his party accusing the government of Bihar of not doing enough to secure his safety, a charge which it denies.
Earlier this week police in the eastern state of Jharkhand said they have recovered bombs fitted with timers from a small hotel. The bombs were similar to the ones used in attacks on a crowd at Mr Modi's rally in Patna.
One of the most polarising figures in Indian politics, Mr Modi was criticised in 2002 for doing little to prevent religious riots in his home state, Gujarat, in which more than 1,000 people, mostly Muslims, died.
Mr Modi, who is widely admired for making Gujarat one of India's most developed states, has always denied any wrongdoing.
In his rallies Mr Modi has highlighted his record of fast economic growth as chief minister of the state of Gujarat, promising to create jobs and help India become a global power. At the same time he has attacked the government for a string of corruption scandals.
He has often contrasted what he says is his modest background as a tea-boy and political outsider to the Nehru-Gandhi family dynasty that runs the Congress party.