Maya Kodnani: Gujarat ex-minister bailed for treatment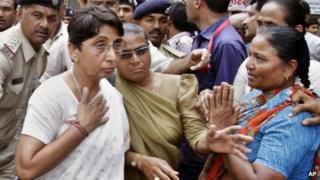 Former Gujarat minister Maya Kodnani, who was convicted over the deadly 2002 religious riots, has been temporarily freed on bail on medical grounds.
Kodnani is suffering from tuberculosis and the Gujarat high court has freed her for three months so she can continue with her treatment.
She was given 28 years in jail last year for her part in murdering 97 people in Naroda Patiya.
The riots left more than 1,000 people, mostly Muslims, dead.
The rioting began after 60 Hindu pilgrims died in a train fire blamed on Muslims in the town of Godhra. The violence was among India's worst outbreaks of unrest.
An aide to Chief Minister Narendra Modi, Kodnani was not a minister at the time of the riots but was appointed junior minister for women and child development by Mr Modi in 2007.
She quit her post when she was arrested in 2009 in connection with the massacre but remained a member of the state assembly.
She was convicted of murder, attempted murder and conspiracy with the judge naming her as "a kingpin of riots" in the Naroda Patiya area. So far, she is the most senior figure convicted over the riots.
Ninety-five bodies were found after the Naroda Patiya massacre - the worst of the Gujarat riots cases - on 28 February 2002. The bodies of two other people missing after the massacre and presumed dead were never found.
Following her conviction in August last year, Mr Modi's government distanced itself from her, saying that she had not been a state minister at the time.
Mr Modi, India's main opposition Bharatiya Janata Party's prime ministerial hopeful for the 2014 general elections, has been accused of not doing enough to stop the riots - a charge he has always denied.