Indian media: Tendulkar's 'guardianship role' in cricket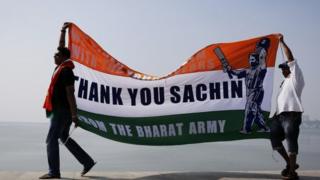 Media in India feel legendary cricketer Sachin Tendulkar should take "a guardianship role" for the sport as part of his post-retirement life.
The master batsman retired from all forms of cricket on Saturday amid much fanfare and received a "fairytale farewell" from his teammates and millions of Indians.
The cricket icon has ruled millions of hearts for more than two decades, so it's hardly surprising that papers want him to stay connected with the sport.
The Indian Express says "such is the legacy of his playing career it demands that he evolve into a guardianship role for the sport".
An article in the India Today website says "if the Indian cricket board is looking for a cricketing brain which knows almost everything, it has to be Tendulkar".
"Be it wielding the microphone or even lecture sessions for the team, people have to pick Tendulkar's brain. Come on BCCI (Board of Control for Cricket in India), please take the lead," it adds.
A report in the CNN-IBN website says the legend may play a bigger role as a nominated MP in India's upper house of parliament.
"Some sports enthusiasts also see him devoting more time in the Rajya Sabha (upper house of parliament), where he was elected in 2012. Their logic is, being a sportsperson, Tendulkar will be able to draft important policies that can change the way sports are being run in the country," it adds.
On a lighter note, this Times of India report says Tendulkar can use his extensive off-field knowledge to start a career as a chef or a travel-show host.
Papers are also praising the government's decision to give the Bharat Ratna (jewel of India), India's highest civilian honour, to Tendulkar.
"The announcement of a Bharat Ratna for Sachin Tendulkar is possibly the sole thing more sweetly timed than a signature cover drive — often regarded as the most statuesque of strokes — by the little master himself.
"It is also an award no one can quibble with in this politically clamorous land where this highest civilian award has had its share of controversy," says the Economic Times.
Indian superhero
Meanwhile, Samajwadi Party chief Mulayam Singh Yadav has urged Indian MPs to stop using the English language in parliament, reports say.
"Countries which use their mother tongues are more developed. It's the need of the hour to promote Hindi," The Indian Express quotes Mr Yadav as saying.
But The Times of India terms Mr Yadav's demand "absurd", saying it implies that there should also be restrictions on "cricket, films, the internet, electricity or a whole host of other things that originated outside India".
Moving on to foreign affairs, Afghan ambassador Shaida Mohammad Abdali has called on Indian media firms to set up their offices in his country, a report in The Times of India says.
"Then you can see for yourself that Afghanistan does not present a picture of uncertainty as you keep reading and hearing about," the paper reports Mr Abdali as saying.
And finally, legendary comic book writer Stan Lee, who created the iconic Spiderman, X-Men, Hulk and Avengers, is now busy creating an Indian superhero, the Hindustan Times reports.
"I thought it would be exciting to bring my style of superhero storytelling to India and collaborate with the amazing artists there," the paper quotes Mr Lee as saying.
Graphic India, the company that is bringing Indian superhero Chakra to life, says the global market for superhero figures and related franchising is worth $100 billion (over £62 billion), though India's share is less than $159 million (£99 million), the report adds.
BBC Monitoring reports and analyses news from TV, radio, web and print media around the world. For more reports from BBC Monitoring, click here. You can follow BBC Monitoring on Twitter and Facebook.