Tehelka's Tarun Tejpal seeks India pre-trial bail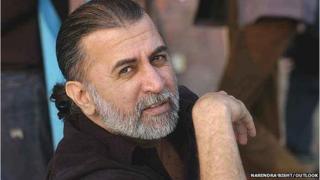 The editor of a top Indian magazine who is accused of sexually assaulting a female colleague is seeking pre-trial bail, reports say.
Tarun Tejpal, 50, temporarily stepped down from his position at Tehelka magazine over the allegations.
But police in Goa, where the incident is said to have taken place, registered a case against Mr Tejpal last week.
Mr Tejpal says he will co-operate with police but released a statement urging them to examine the evidence fairly.
"There have been serious allegations cast on me in this last week, and unfortunately as sometimes happens in life, the complete truth and the need to do the honourable thing can come into conflict," he said.
He also urged police to examine CCTV footage so "the accurate version of events stands clearly revealed".
'Double standards'
The alleged incident happened earlier this month in Goa where the magazine held an annual conclave attended by newsmakers and celebrities from around the world.
The alleged victim's unidentified confidante told the NDTV news channel last week that the woman had been subjected to "an act of grave sexual misconduct" which left her shattered.
Standing aside last week, Mr Tejpal said a lapse of judgement and a misreading of the situation "led to an unfortunate incident that rails against all we believe in and fight for".
Police in Goa launched their investigation on the basis of an email from the acting editor of Tehelka which described the magazine's course of action after the allegations against Mr Tejpal came to light.
The BBC's Andrew North in Delhi says the case has astonished India, not least because Tarun Tejpal was a media celebrity and Tehelka won fame for hard-hitting exposes of high-profile figures involved in sex crimes and corruption.
The magazine's initial response - which was to temporarily remove Mr Tejpal from the editorship - was widely criticised for having double standards, our correspondent reports.
The magazine's managing editor insists its response was in keeping with what the journalist who made the allegation wanted, but it has also set up a committee to investigate the incident.
However, over the weekend the journalist who was allegedly attacked said she fears intimidation and harassment by associates of Mr Tejpal, media reports say.
"I call upon all persons connected to Mr Tejpal and his associates to refrain from approaching me or my family members," a statement from the journalist said. She is now believed to have resigned from Tehelka.
She has yet to press charges but has reportedly said she will co-operate with the Goa police inquiry.