Indian arrested in Mumbai after wife's body found in fridge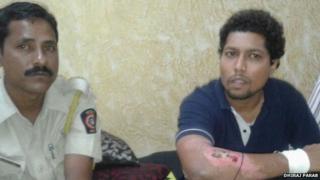 Police in India have arrested a man after his wife's chopped-up body was found hidden in the refrigerator in their apartment in the city of Mumbai.
Girish Pote, 27, stabbed his wife Madhuwanti, a French citizen, before cutting her body into pieces, police official Dinkar Pingle told BBC Hindi.
After the crime, Mr Pote telephoned relatives to tell them what he had done and they informed the police, he added.
Mr Pote is in custody and has not yet made any comment.
The couple married on 20 June 2006 and lived in Mumbai's prestigious Bhayander area.
They have a two-year-old son, who has been with Mr Pote's parents for the last few days.
Mr Pingle said the murder took place on Tuesday evening when Mr Pote attacked his wife with a knife.
"From our initial investigation we have found that the couple had been fighting for the past few days over money and also because Madhuwanti wanted to return to France as she didn't like Indians," Mr Pingle said.