India sex case: Ex-judge AK Ganguly to face no action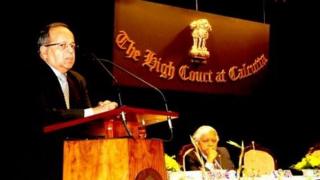 India's Supreme Court has said that it will take no further action against a retired judge accused of sexual misconduct by one of his interns.
A court-appointed committee concluded that there was "prima facie evidence" of "unwelcome behaviour" by him.
But it said that it would drop legal action against AK Ganguly because he had retired.
Mr Ganguly has strongly denied a law graduate's allegation that she was sexually assaulted by him.
The graduate, Stella James, posted a blog last month describing how the former judge allegedly sexually assaulted her in a Delhi hotel room.
She said it happened last December when she was an intern.
Mr Ganguly is the chairman of the Human Rights Commission in the state of West Bengal.
'Not welcomed'
In its ruling on Thursday the committee set up by the Supreme Court said: "[We are] of the considered view that the statement of the intern, both written and oral, discloses an act of unwelcome behaviour (unwelcome verbal/non-verbal conduct of [a] sexual nature)."
But Indian Chief Justice P Sathasivam has been reported by local media as saying that the three judges on the panel had decided "no further follow-up action is required".
The trio ruled this was because "the woman 's internship with Justice Ganguly was a private placement and he had retired by the time the charges against him surfaced".
Mr Ganguly has denied any wrongdoing and on Thursday refused to comment on the committee's findings.
Shock
Correspondents say that the charges levelled by the young lawyer against the judge shocked India, particularly as the incident reportedly took place at a time when the country was witnessing huge protests over the fatal gang rape of a student in Delhi.
Four men were sentenced to death for that crime in September. The case also forced the Indian government to strengthen its sexual violence laws.
"For my supposed diligence, I was rewarded with sexual assault (not physically injurious, but nevertheless violating) from a man old enough to be my grandfather," Ms James wrote in her blog on 6 November for Journal of Indian Law and Society.
On why she went public with the incident several months after it occurred, Ms James, now a lawyer with a non-governmental organisation, wrote that although she "bore, and still bear, no real ill-will towards the man, and had no desire to put his life's work and reputation in question", she felt "a responsibility to ensure that other young girls were not put in a similar situation".