Indian media pay tributes to Nelson Mandela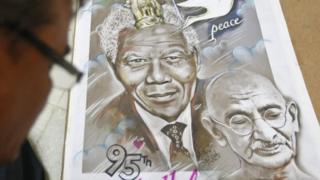 Media are echoing PM Manmohan Singh's statement that South African leader Nelson Mandela represented the ideas and struggles of Indian freedom leader Mahatma Gandhi.
Mr Singh said India regarded "Mr Mandela as a true Gandhian in spirit and idea" and "in a world marked by division, his was an example of working for harmony", reports The Zee News website.
The Indian Express describes Mr Mandela as a "global statesman and peace icon".
"Globally respected as a symbol of resistance against injustice, Nelson Mandela brought an end to the much-despised apartheid regime in South Africa while spreading the spirit of freedom in the rest of Africa," a report in the paper says.
Mr Mandela had the unique honour of being one of the two non-Indians to be bestowed with the country's highest civilian award, the Bharat Ratna (Jewel of India), in 1990.
The DNA newspaper says "South Africa's greatest son and a beacon of freedom around the world" has died.
Papers and websites feel "the world has a duty" to follow Mr Mandela's legacy.
"Heroic in his deeds, graceful in his manner, sainted in his image, Nelson Mandela long served as both cause and muse in the entertainment community," says the CNN-IBN website.
The Hindu says "our world is a sadder, gloomier place for his passing".
"After stepping down in 1999, he became the conscience keeper of South Africa, the African continent and indeed the world, speaking out on issues like HIV-Aids, the illegal American invasion of Iraq and the rights of the Palestinians," it adds.
Milk adulteration
In other international news, papers are commenting on a war of words between Delhi and Islamabad after over Prime Minister Nawaz Sharif's reported remark that Kashmir was a flashpoint that could trigger a war with India.
While Mr Sharif's office denied he had made these remarks, Mr Singh responded by asserting that "there is no scope of Pakistan winning any such war in my lifetime".
Writing on the controversy, The Hindustan Times says: "The more things change, the more they remain the same in Pakistan. This is unfortunate but it is something that India has to learn to live with."
In an editorial, it says: "It is possible that he [Sharif] is playing to the galleries at home with his sharp remarks about a fourth war. He knows full well that such a war is hardly a possibility, leave along winnable for Pakistan."
The Tribune says it is "disappointing" that Mr Sharif has "not been able to walk the talk about improving relations with India" and adds that it is "simply not fruitful to talk of another war" when India and Pakistan are attempting to initiate peaceful interaction with each other, be it in business, cultural exchanges or on the sports fields.
Meanwhile, three Iranian warships have reached the Indian city of Mumbai on a three-day "goodwill visit", The Times of India reports.
The warships - destroyer Alborz, helicopter-carrying tanker Bandar Abbas, and a Russian-origin Kilo-class submarine Younes - entered the Mumbai harbour on Thursday.
In domestic news, the Supreme Court has called for harsher punishment for those involved in the adulteration of milk, the Hindustan Times reports.
"The court on Thursday urged state governments to amend laws to make production and marketing of adulterated milk an offence punishable with life imprisonment," the report said.
And finally, in great news for football fans, India will host the Under-17 Fifa World Cup in 2017, reports the Deccan Herald.
South Africa, Ireland and Uzbekistan were the other countries in the running for the right to host the event, it adds.
BBC Monitoring reports and analyses news from TV, radio, web and print media around the world. For more reports from BBC Monitoring, click here. You can follow BBC Monitoring on Twitter and Facebook.