India minister Abdullah sorry for 'sexist' remarks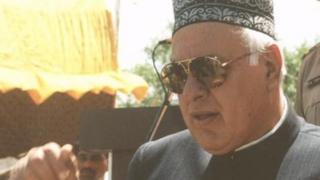 An Indian government minister has apologised after making comments denounced by critics as sexist.
Renewable Energy Minister Farooq Abdullah had said that he was "scared to talk to women" because he "might end up in jail because of a complaint".
His comments came amid public concern about sexual harassment.
After women's rights activists accused him of trivialising a serious issue, Mr Farooq issued a partial apology for "hurting sentiments".
But he said that he had been "completely misunderstood".
In the comments that caused offence Mr Farooq said: "I'm scared to talk to a woman these days. I don't even want to keep a female secretary.
"Who knows, I might end up in jail because of a complaint."
Speaking outside parliament, he added that he was not "blaming the girls. I'm blaming society itself".
Correspondents say that his remarks have come at a sensitive time.
Allegations by a young lawyer that she was sexually harassed by a top judge followed huge protests earlier this year over the fatal gang rape of a student in Delhi.
Four men were sentenced to death for that crime in September. The case also forced the Indian government to strengthen its sexual violence laws.
More recently the editor of India's leading investigative magazine, Tehelka, was remanded in custody to face a rape charge that could see him jailed for 10 years after a complaint from a junior colleague. The editor, Tarun Tejpal, denies the charge and is being questioned by police.
Mr Abdullah's son Omar - who is chief minister of the restive state of Jammu and Kashmir which borders Pakistan - joined calls for his father to apologise.
Writing on Twitter, he said: "I'm sure the attempt wasn't to trivialise important issue of women's security so I hope dad apologises for the misplaced attempt at humour."
"