Anti-black magic activist Dabholkar killing: Two held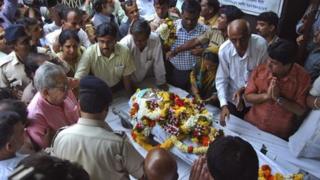 Police in western India have arrested two men in connection with the killing of an activist who campaigned against superstition and black magic.
The suspects were arrested almost four months after Narendra Dabholkar was shot dead in Maharashtra state.
Mr Dabholkar, who was 67, was a former doctor who spent decades denouncing what he called "fraudulent" practices by gurus and spiritual leaders.
His killing sparked widespread protests by Indian anti-superstition activists.
It also prompted Maharashtra state to introduce moves to ban black magic and superstition.
The legislation, initially adopted as an ordinance, is due to be debated by the state parliament to make it permanent.
Mr Dabholkar was shot dead by gunmen on a motorcycle in the city of Pune on 20 August.
The suspects, who have not been named, were arrested in the resort state of Goa on Friday, and later transferred to Pune for questioning, police said.
Critics accused Mr Dabholkar of being anti-religion in a country where mysticism is venerated. But in an interview with the AFP news agency two years ago he rejected such charges.
"The Indian constitution allows freedom of worship and nobody can take that away," he said. "This is about fraudulent and exploitative practices."
Mr Dabholkar's organisation, the Maharashtra Andhashraddha Nirmoolan Samiti (Committee for the Eradication of Blind Faith), was known for criticising some of India's "godmen" - the self-styled Hindu ascetics who claim to perform miracles and are revered by many.
He also campaigned against animal sacrifices used in certain rituals.