Indian politician Laloo Prasad Yadav freed on bail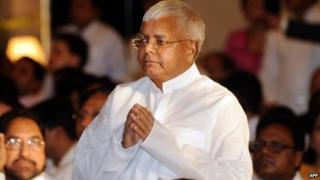 Former Indian railways minister Laloo Prasad Yadav, who is serving a five year sentence in the notorious "fodder scam" case, has been freed on bail.
But he remains disqualified from parliament and cannot contest elections, the Supreme Court has ruled.
Yadav was jailed in October after being found guilty of embezzling state funds intended to buy food for cattle while he was Bihar state chief minister.
He has always denied the charges and has appealed against his conviction.
Following the trial court's conviction, Yadav became one of the first politicians to lose his parliamentary seat after a recent Supreme Court ruling which banned convicted legislators from holding office.
On Friday, the Supreme Court said since 37 other people convicted in the case had been freed on bail, there was no reason to keep Yadav in jail.
He is among 45 people, including senior bureaucrats and politicians, who have been convicted by the court in the fodder scam which involved embezzlement of 9.5bn rupees ($151m; £94m) meant for buying cattle fodder.
The case first came to light in 1996. There were a total of 56 defendants in the case. During the trial, seven of them died, two decided to give evidence for the prosecution, one admitted to the crime and one was discharged.
Yadav is one of India's most colourful politicians. He leads the regional Rashtriya Janata Dal party in Bihar and has long been an ally of India's Congress party-led coalition government in Delhi.
He resigned as chief minister of Bihar after the allegations of corruption arose. His wife Rabri Devi was installed in his place.
Yadav's Rashtriya Janata Dal party lost power in state elections in 2005.