Row over India government move on condom price ceiling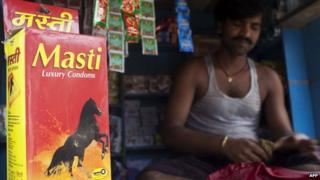 A government-imposed ceiling on the price of condoms in India has come into effect in which they have been included in a list of "essential medicines".
The maximum price of a condom has been set at 6.56 rupees (11 cents; 6 pence).
But manufacturers of more expensive "luxury" condom brands have criticised the move saying it will have a negative impact on population-control measures.
It is estimated that 1.8 billion luxury condoms are sold every year in India for up to 150 rupees ($2.50/£1.50).
At the lower end of the price scale they are sold for about 25 rupees (40 cents/24 pence).
Although it will take time before luxury condoms are no longer widely available, millions of Indian males previously willing to open their wallets to get their favourite brands now stand to be disappointed.
The government says it wants to include condoms in its list of "essential medicines" because they are vital in preventing the spread of sexual diseases.
But manufacturers say that condoms should not be classified in such a way and that the government's drug-pricing department should have no role in determining the cost of contraceptives.
They say the condom market is growing at "an exponential rate" and the price ceiling will force them to stop production of more expensive brands which in turn will have a negative impact on population-control measures.
Earlier this month, the makers of two popular brands challenged the government ceiling in the Delhi High Court. The court is yet to deliver its ruling.