Indian media: 'Shot in the arm' for Narendra Modi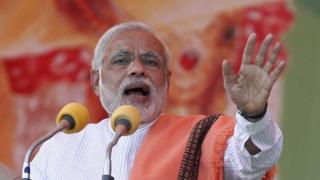 Newspapers feel a court ruling that clears controversial politician Narendra Modi of complicity in the 2002 Gujarat riots has given his prime ministerial campaign a "shot in the arm".
A court in Ahmedabad city on Thursday rejected a petition filed by Zakia Jafri - widow of former Congress MP Ehsan Jafri who was killed during the riots - against the clearance given by the Supreme Court-appointed Special Investigation Team to Mr Modi and 59 others, papers say.
Mr Modi, the main opposition Bharatiya Janata Party's (BJP) candidate for PM, is credited with making the western state of Gujarat economically prosperous as its chief minister, but also faces questions over his controversial past.
He is accused of doing little to stop anti-Muslim riots which left more than 1,000 dead - an allegation he has always denied.
Newspapers are seeing Thursday's verdict as a "shot in the arm" for Mr Modi and his party ahead of general elections due next year.
The verdict is a "morale booster" for the BJP and it may help the party "attract allies who don't wish to align with Congress but balked at the idea of doing business with someone who stood accused of setting off violence on a massive scale", says The Times of India in a report.
Political observers feel the ruling may help "boost" Mr Modi's image among the minority Muslim community, says the Deccan Herald.
However, newspapers also warn that the order does not mean the end of Mr Modi's legal troubles and he needs to do more to improve his image.
Despite the favourable verdict, the Indian Express feels there is "still some way to go before Mr Modi can absolve himself of political responsibility for the violence that happened on his watch".
"His perceived inaction during the riots has extracted political costs - his detractors view him exclusively through the prism of secularism, and minorities still cannot bring themselves to trust him. Mr Modi will have to work harder to dispel those suspicions," the paper says in an editorial.
Staying with domestic politics, the federal home ministry may investigate the Aam Aadmi Party's (AAP) funding after allegations of irregularities, reports The Hindu.
The ministry is seeking more clarifications from AAP and will inspect its accounts, a senior official said. The party's leader Arvind Kejriwal is set to be sworn in as Delhi's chief minister on Saturday.
'Innocent love'
Meanwhile, the Zoroastrian community is holding a four-day meeting starting Friday in Mumbai to discuss ways to save its dwindling population, The Asian Age reports.
According to estimates, their number has fallen to fewer than 112,000 people, a drop of over 10% between 2004-2012, it says.
Late marriages, opting for smaller families or lack of marriages are said to be the reasons for the depleting numbers of Zoroastrians, it adds.
In a significant development, a group of Islamic scholars in Indian-administered Kashmir has said that women whose husbands have disappeared during the conflict in the state can remarry after four years of waiting, reports the Zee News website.
Such women have come to be known as "half widows" because the fate of their husbands is unknown, it says
And finally, a court in Delhi feels the legal system in India is "most unfair" to young lovers as laws "criminalises innocent love" without exceptions, reports The Times of India.
The legal age for marriage in India is 21 years for men and 18 for women.
The court acquitted a man of kidnapping a girl who was only four months short of turning 18, saying she had eloped with him out of her own will.
It called for amending laws in case of elopement involving minor girls when the situation is "non- exploitative", the paper adds.
BBC Monitoring reports and analyses news from TV, radio, web and print media around the world. For more reports from BBC Monitoring, click here. You can follow BBC Monitoring on Twitter and Facebook.