India sex case: Ex-judge AK Ganguly quits rights panel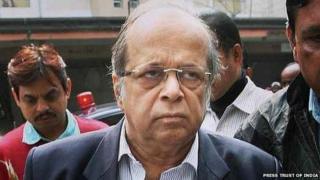 A former Indian Supreme Court judge accused of sexual misconduct has resigned as the head of a human rights panel.
Justice AK Ganguly has been accused by a law intern of sexually harassing her - an allegation he strongly denies.
Last month, a Supreme Court panel investigating the case said there was "prima facie evidence" of "unwelcome behaviour" by Mr Ganguly.
But the court chose to take no action because the judge had retired.
Though Mr Ganguly refused to comment on his resignation, India's former attorney general Soli Sorabjee confirmed it, saying it was a "correct decision".
"It is a good thing that he has resigned a day after talking to me," Mr Sorabjee told the Press Trust of India news agency.
After retiring from the Supreme Court, Mr Ganguly was appointed chairman of the Human Rights Commission in the state of West Bengal.
Pressure mounted on him to step down after the Indian Express newspaper made public the law intern's deposition before the court-appointed panel, in a by-lined article by India's additional solicitor general Indira Jaising, on 16 December.
In it the law graduate, Stella James, alleged the former judge sexually harassed her in a Delhi hotel room.
She alleged that Mr Ganguly had offered his bedroom to "drink some wine and relax" and when she "tried to move away, he kissed my arm, repeated he loved me [and] asked me to share [the] room".
Ms James posted a blog in November describing the alleged incident, which happened in December 2012.
Correspondents say that the charges levelled by the young lawyer against the judge shocked India, particularly as the alleged incident took place at a time when the country was witnessing huge protests over the fatal gang rape of a student in Delhi.