India police arrest third suspect in Danish woman rape case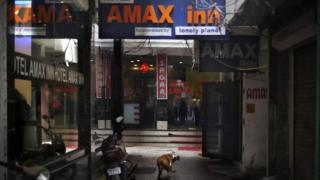 Police in the Indian capital say they have arrested a third man in connection with the gang rape of a Danish woman.
Two men have already been detained over the incident and some of the woman's belongings recovered.
The 51-year-old tourist was attacked by a group of men in the Paharganj area on Tuesday evening. Police say she was robbed and raped at knifepoint.
There has been growing alarm at India's sexual violence since the 2012 fatal gang rape of a student on a Delhi bus.
But violence and discrimination against women remain deeply entrenched in India's staunchly patriarchal society.
A Delhi police official said the third suspect was arrested from the city's busy Nizamuddin area on Thursday.
The two homeless men who were held late on Wednesday in connection with the incident have been remanded in police custody.
Some of the woman's belongings, including an iPad, a mobile phone and some cash, were recovered from them.
The police said they were hunting for five other suspects - "young men, mostly vagabonds" - who allegedly assaulted the victim for almost three hours at knife-point.
The Danish woman told police that she approached the group of men after losing her way as she returned to her hotel in a busy backpacker district near New Delhi Railway Station.
Media reports said the woman was gagged, beaten up and raped by the men.
The woman flew out of India on Wednesday morning.
Last March a Swiss tourist was gang raped and her partner attacked by a group of men in Madhya Pradesh state. Six men were jailed for life for the attack in July.