Indian media: Remembering Mahatma Gandhi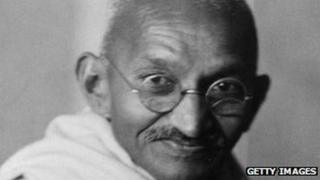 Media in India are remembering Mahatma Gandhi on his 66th death anniversary and feel his teachings should be practised instead of the "current craze" of naming public places after the leader.
On Thursday, India is marking his death anniversary with leading dailies splashed with his messages of truth, religious harmony and non-violence.
Gandhi, remembered for his leading role in India's freedom movement, was assassinated by Nathuram Godse on 30 January 1948 in Delhi.
In a piece in The Times of India, noted historian Ramachandra Guha gives his ideas about honouring Gandhi's true legacy.
Noting the excessive trend of naming public places after the leader, the historian says Gandhi should be remembered solely for religious harmony rather than through statues or buildings.
"The current craze, if not checked, might lead to thousands of roads, parks, squares named after him. This would be both empty symbolism as well as bad aesthetics. It would not contribute either to conveniences or to the glory of the father of the nation," he writes.
"Gandhi had lived and died for the cause of religious harmony. Therefore, the establishment of Hindu-Muslim amity would be the only worthy and satisfying memorial over his ashes. And so it still remains," he adds.
In an article dedicated to "the last days of Mahatma Gandhi", The Tribune discusses the hunger strike the leader began on 13 January 1948 seeking to restore religious harmony in the country.
He had laid down seven conditions to end the fast, which included the restoration of mosques that had been desecrated and converted into temples and improving conditions of Muslims, the paper says.
Author Arvind Sharma says Gandhi's unique "weapons" of truth and non-violence were part of his "innate spirituality".
"For Gandhi, morality and religion were synonymous. He made it amply clear that what he wanted to achieve was self-realisation… It was his faith in spirituality that clearly gave him the courage to act the way he did on so many occasions, even when it looked as if he was treading a lonely path," The Times of India quotes the writer as saying.
Meanwhile, India's military bands also paid a unique tribute to Gandhi on Wednesday by playing his favourite devotional song "Raghupati raghav raja ram" (sung in praise of the Hindu god Rama) during Beating the Retreat ceremony, which marks the end of India's Republic Day celebrations.
'Fake gold'
Moving on to some environment news, activists are expressing concern over high pollution levels in Delhi after data from a study said the national capital had overtaken Beijing to become the most polluted city in the world, reports the NDTV website.
The report has Sunita Narain, director of environment group Centre for Science and Environment, lamenting the lack of government action to control pollution in the city.
Delhi has lost the advantage it gained by using Compressed Natural Gas in vehicles mainly due to a large number of cars that are added to the roads every day, she says.
Meanwhile, The Indian Express reports that US citizens Susanne and Lloyd Rudolph have been bestowed with one of India's highest civilian honours, the Padma Bhushan, for their research on Indian democracy spanning nearly 60 years.
"We've had a terrific time over the last 57 years, coming to and studying the country. Even our children can speak Hindi," Lloyd, 83, told the paper over the phone from California, US.
And finally, 43kg of gold and over 57,000kg of silver offered by devotees at the revered Vaishno Devi shrine near the northern city of Jammu has been declared "fake", reports the DNA newspaper.
Rama Kant Dubey, an official of the Hindu nationalist group Vishwa Hindu Parishad, says a system should be devised to check the purity of the precious metals offered at the shrine which is visited by millions annually.
BBC Monitoring reports and analyses news from TV, radio, web and print media around the world. For more reports from BBC Monitoring, click here. You can follow BBC Monitoring on Twitter and Facebook.