Kashmir minister accused of 'trying to molest' woman quits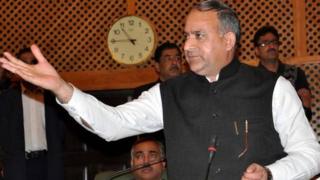 A top minister in Indian-administered Kashmir has resigned after allegations that he attempted to sexually assault a doctor, officials said.
State Health Minister Shabir Ahmed Khan quit after the senior gynaecologist alleged that he "made sexual advances" and tried to molest her.
The incident took place in his office in Srinagar a few days back, she said.
Mr Khan did not answer the BBC's calls. Civil society groups and doctors have expressed anguish over the incident.
Doctors have also called a day's strike at the weekend to protest the "barbaric act", reports BBC Urdu's Riyaz Masroor from Srinagar.
"Yes, the minister resigned to the governor this [Friday] morning," a top government official confirmed to the BBC.
Mr Khan is a member of the Congress party which is in power in the state in alliance with the National Conference party.
In 2006, Kashmir was rocked by sensational disclosures about top ministers, security officials and bureaucrats running a sex racket.
Several top ministers and officials were jailed after some girls revealed in court that they were sexually exploited after they were promised jobs in the government.
Most of the accused are now out on bail and have resumed their positions in the government.
Chief Minister Omar Abdullah had threatened to resign when the opposition group alleged that he too figured in the list of those accused of exploiting girls.
Scrutiny of sexual violence in India has grown since the 2012 gang rape and murder of a student on a Delhi bus.