Boat capsize in India's Orissa 'kills 22'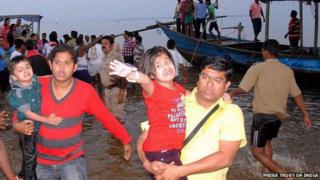 At least 22 people have drowned and nine others are missing after a boat capsized in a river in India's eastern Orissa state, officials say.
The boat, carrying more than 100 passengers, sank near a dam in Sambalpur district, on Sunday.
The passengers were said to be picnickers who had hired the boat for a pleasure ride.
Boats in India are often overloaded and lax safety standards mean accidents are common.
Officials said 22 bodies had been recovered till Monday afternoon and the toll could rise further.
Police and emergency workers have rescued dozens of people from the water, local officials said.
Rescuers used flashlights to search overnight for people feared trapped in the hull of the boat.
The overcrowded boat was on the way back from the Hirakud dam when it sank in the Mahanadi river, local police officer Amitabh Pande told the BBC.
"The boat suddenly started swaying vigorously and water started gushing in. Though we did our best to flush out the water, it was not good enough," a survivor told a local TV channel.
Last month, 21 people were killed when a tourist boat capsized off India's Andaman and Nicobar Islands in the Bay of Bengal.
Last July, 11 people drowned after a boat capsized in the flooded Kosi river in Bihar. Twenty-four others swam to safety.