Why Indians want to settle on Mars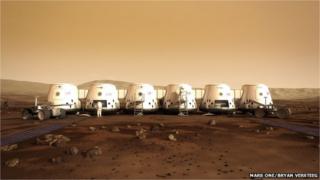 "I want to meet aliens. I strongly feel that we are not alone in this universe. If possible, I would like to live on both Earth and Mars from time to time," says Amulya Nidhi Rastogi, an engineering student from the suburb of Gurgaon near the Indian capital, Delhi.
Mr Rastogi, 21, is one of 1,058 applicants shortlisted from some two million hopefuls globally for a one-way trip to Mars by Dutch non-profit organisation Mars One in 2024. It hopes to build a community of settlers on the planet.
They have cleared two rounds of a rigorous four-stage clearance process, at the end of which 24 people will be sent to the planet.
India has the largest number of applicants - 62 - after the US who have made it to the shortlist for the trip to the Red Planet.
Each potential settler will go through a seven-year training course - commencing in 2015 - which will help them adapt to the psychological and social aspects of living in a small society.
The Indian applicants are a mix of people: from students to private entrepreneurs to stock brokers to white-collar professionals.
'No marriage plans'
Take, for example, 24-year-old renewable energy professional Arindam Saha from the eastern city of Calcutta, who has put off marriage plans to make the trip.
"I doubt if any woman will marry a man who wants to go to Mars and settle there. That is why I didn't plan for marriage. I don't have a girlfriend, nor any desire for marriage," Mr Saha says.
Others like Ashish Mehta, a 45-year-old stock broker from Mumbai, say they have planned their future to make the trip.
"I have been married for 20 years. My son is 19 and daughter 17. I have paid up my mortgage. I have saved around 50-60m rupees ($809,751-$971,701; £485,664-£582,797). And I think I have done enough for my family," he says.
"When I leave [for Mars] after 10 years, my son will be 29 and daughter 27 years old. By then, they would have certainly completed their studies and be married. I hope to see my granddaughter or grandson when I leave."
Though successful applicants will be trained for the journey to the Red Planet, it is not clear how will they survive on a planet which is extremely hostile to life.
Mars' atmosphere is very thin, extremely cold and what water remains is frozen or hidden underground. Radiation exposure is another concern. Then, there are questions about the funding and technology.
Scientists like Nobel physicist Professor Gerard Hooft wonders how the project will be funded as the selected candidates will not have to pay for the journey.
"I have no way to judge how they will get sufficient funds because it is an extremely expensive programme," he said.
But Mars One's co-founder Bas Lansdorp believes he can successfully land humans on Mars in 10 years.
He told the BBC he needed $6bn (£3.6bn) to launch his mission, and that he planned to raise it through high-profile donations and event broadcast rights.
"If the London Olympics could raise $4bn through broadcast rights and advertising revenue in a three-week fund raising effort, why can't Mars One do it?," he asks.
'Extraordinary'
"I see it more like event reporting just like people watch Olympic Games and see extraordinary people do extraordinary things. I think it would be very comparable to that kind of television," he adds.
Meanwhile, the applicants from India are optimistic and hopeful about human settlements on the Red Planet.
Vinod Kotiya, a manager with a state-run power company, said he wanted to "set an example" by going to Mars.
"I'm not going out of any fear that something will happen to Earth some day. I want to set an example. This is an opportunity of a lifetime and I want to grab it anyway," he said.