Why India's Muzaffarnagar riot victims will not vote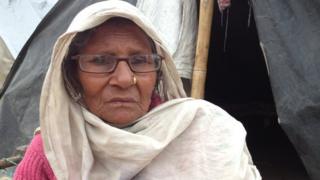 At least 65 people were killed and 51,000 people - mostly Muslims - were displaced after Hindu-Muslim clashes in the northern Indian town of Muzaffarnagar in September. As India gets ready for the general elections which begin in less than a month, BBC Hindi's Nitin Srivastava visits a camp to hear the concerns of those still living there, too fearful to return home.
On a breezy afternoon, Rihana, 42, and her family of seven are busy preparing dinner on a temporary mud stove in their tiny makeshift home.
Her husband, who was seriously injured during the religious riots in their ancestral village not far from this relief camp, is back with the family after spending four months in a government hospital.
But he has been declared unfit to work as a mason and is without any means of livelihood.
As I sit talking to Rihana, it becomes clear that elections are far from her mind.
"We had to leave our homes six months ago and we have been living like nomads. All we could gather before fleeing were our children. Now we have no identity, no proof. No help has arrived so far. How will we go to vote in the elections," she says.
Uttar Pradesh is India's most populous state and many have described last year's riots as one of the worst in the country in more than a decade.
There are more than 300 families in the camp living without a permanent roof over their heads.
For several residents here, the upcoming elections have brought back memories of an unprecedented displacement, something they have been trying to forget.
Akhtaran, 76, is a widow and has a family of nine. Her home was burnt in the Kutba village by an angry mob during the riots and her two sons are now jobless.
'No confidence in leaders'
"I have voted in more than 10 general elections. All I have got in return is despair and loss of home. Why should I vote? And how should I vote when I couldn't even bring along a picture or a document from my home?" she asks.
Over the past few months, tens of thousands of the displaced riot victims have been given compensation and rehabilitated, but thousands still await their turn.
The state administration and now the Election Commission have been trying to provide some sort of an identity to people still living in relief camps.
Muzaffarnagar district magistrate and chief electoral officer Kausal Raj Sharma says "more than 3,000 voter identity cards were issued by 9 March - the last date for enrolment - and most of them had no documents".
However, hundreds who continue to live without any identification papers say they have decided not to take part in the electoral process at all.
Aman, of Sisauli village, says he was attacked by some unknown people while working in the fields last year.
His family moved to the relief camp while he was recovering in a government hospital.
"We have lost all confidence in political leaders," he says. "They failed to provide any help, and assurances came only after we lost everything. I am not even going to apply for a new voter identity card."
Many of the over 2,000 families still living in relief camps say the shelters lack basic health and sanitation facilities and blame political apathy for the dismal conditions.
In December, a government appointed panel said at least 12 children, aged below 15, had died in the relief camps from diseases such as pneumonia and dysentery.