Congress manifesto fails to impress Indian media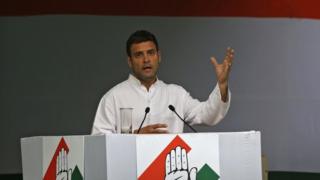 Media in India feel the ruling Congress party's manifesto lacks "appeal" and is banking on "welfare promises" to impress voters ahead of parliamentary polls which begin next month.
Promising "inclusive growth", the manifesto released by the party on Wednesday includes various welfare schemes, including a right to healthcare for all and pensions for the aged and disabled.
Newspapers say the manifesto contains nothing unique and suffers from a lack of "credibility".
"A difficult election should have occasioned a fresh and energetic manifesto. But the one released by the Congress on Wednesday held no surprises... Much that the Congress has pledged could have found mention in the promises of other parties too," says the Hindustan Times.
The paper feels that with a "tough fight ahead", the party is trying to woo the middle class and the poor through "welfare promises".
The Indian Express says the manifesto "warms over old welfare promises and fails to find a new appeal".
"The Congress party is weighed down by 10 years of incumbency - its mistakes are acutely clear, its positives taken for granted. So can the Congress do a hard reset, and give voters a fresh reason to believe in it? Its manifesto does not try hard enough," it says.
The Times of India also feels the manifesto "promises too many things at once - in an attempt to cover all bases but at the cost of credibility".
Other key political parties such as the main opposition Bharatiya Janata Party and the Aam Aadmi Party are likely to release their election manifestos later in the week.
Meanwhile, the Supreme Court on Wednesday said the government in the northern state of Uttar Pradesh had failed to stop last year's communal riots that left more that 60 people dead.
The court blamed the government for "negligence" in handling the Hindu-Muslim clashes in the town of Muzaffarnagar,, but ruled against the need for a fresh probe, reports the NDTV website.
'Ban on jeans'
Meanwhile, a council of village elders in Uttar Pradesh has ordered girls to refrain from wearing jeans, reports The Asian Age.
The decision was taken at a meeting attended by thousands of people, mostly from the Yadav community, from Uttar Pradesh, Haryana and Rajasthan states, the paper says.
And finally, private detectives are being roped in by political parties to know more about their rivals ahead of the elections, reports the Hindustan Times.
Detective agencies supply information to the parties about their rivals' activities, plans and weaknesses, it adds.
"Our role is becoming important because these days there is nothing called dedicated party cadre. Opportunism and backstabbing is rampant in politics, more so during elections," says Sanjeev Deswal of the Aider Detectives agency.
BBC Monitoring reports and analyses news from TV, radio, web and print media around the world. For more reports from BBC Monitoring, click here. You can follow BBC Monitoring on Twitter and Facebook.