India's Priyanka Gandhi denies Modi challenge report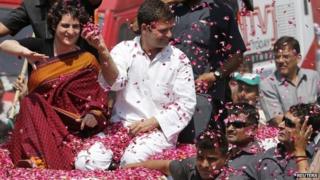 Priyanka Gandhi, daughter of India's Congress party chief Sonia Gandhi, has denied reports that she ever planned to contest elections against the main opposition BJP's Narendra Modi.
A newspaper report on Monday said the party leadership had dissuaded her from contesting from the city of Varanasi.
The ongoing general election pits the ruling Congress party against the BJP.
In Varanasi, Mr Modi, the BJP's PM candidate, is being challenged by anti-corruption campaigner Arvind Kejriwal.
Mr Kejriwal's Aam Aadmi (Common Man's) Party, which secured a spectacular result in local polls in Delhi last year, offers a challenge to the two main parties.
Last week, the Congress nominated local politician Ajay Rai as its candidate from Varanasi.
The nine-phase vote began on Monday and will conclude on 12 May. Votes will be counted on 16 May. More than 814 million Indians are eligible to vote in the polls.
Mr Modi, who is ahead in all the pre-election opinion polls, is the leader of Gujarat state, which witnessed one of India's worst anti-Muslim riots in 2002.
"No one in my family would ever stop me from contesting an election. My brother, mother and husband would wholeheartedly support me if I wanted to contest," Priyanka Gandhi told NDTV channel.
"My brother has expressed to me many times that he thinks I should contest," she said and added that her "decision to not contest is personal. I will only change it when I feel from within I should".
Indian media has for years speculated about Ms Gandhi's political ambition and a few months ago too there were reports that she was "all set to play a bigger role" in the general elections.
The speculation gained some currency after reports said she had chaired a crucial Congress meeting.
But Ms Gandhi has mostly remained in the shadow of her older brother Rahul, heir-apparent of the Nehru-Gandhi dynasty - she has so far confined her politics to campaigning for mother Sonia Gandhi in her constituency Rae Bareli and Rahul in his constituency Amethi.
Charismatic and articulate, Ms Gandhi bears a striking resemblance to her grandmother, former PM Indira Gandhi.
A section of the party leadership has long clamoured for Ms Gandhi to take on a larger political role and many say that at the moment, when the Congress party has been in decline, bringing her on centre stage may revive the party's fortunes.