Indian media: Modi's interview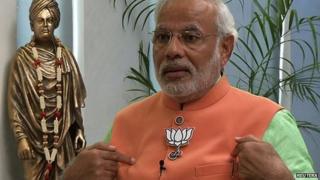 Media in India are discussing controversial politician Narendra Modi's recent statements on the 2002 religious riots in the western state of Gujarat.
Mr Modi, the main opposition Bharatiya Janata Party's (BJP) candidate for PM, is credited with making Gujarat economically prosperous as its chief minister, but also faces questions over his controversial past.
He is accused of doing little to stop anti-Muslim riots which left more than 1,000 dead - an allegation he has always denied.
He has never apologised over the riots and appeared to be evasive in his interviews given to a TV channel and a news agency on Thursday, reports say.
Though he has been cleared by an investigation of any involvement in the riots, his political rivals continue to demand an apology from him.
"I am convinced that if there is even a grain of truth in the allegations... Modi should be hanged in the street square. There should be such exemplary punishment so that no one dares to commit such a crime for 100 years," Mr Modi reportedly said when asked why he hadn't apologised over the riots.
In another interview to a regional television news channel, Mr Modi denied the possibility of any "witch-hunt" on the issue of the riots if the BJP came to power, saying his government would be "positive in approach and would not be vindictive in any form", The Indian Express reports.
He also dismissed the view that "Muslims were afraid of him coming to power and this fear could lead to polarisation of votes" in key constituencies such as Varanasi, from where he is contesting, the Hindustan Times reports.
"I am not going there (Varanasi) to defeat anyone, but to win hearts. Once I meet them all, they will love me," the report says.
Hate speech
Meanwhile, the Election Commission has censured Mr Modi's top aide Amit Shah and Azam Khan, a senior minister in the Samajwadi party government in the northern state of Uttar Pradesh, "for making controversial remarks during campaigning", The Hindu reports.
The poll watchdog's decision came days after it banned the two leaders from campaigning in the state.
Mr Shah, who is leading the BJP's poll campaign in Uttar Pradesh, had allegedly asked people at a public meeting to take "revenge" for last year's religious riots in Muzaffarnagar town.
On the other hand, Mr Khan was reprimanded for his remark that India's victory in the 1999 Kargil conflict over Pakistan was due to Muslim soldiers and not Hindus.
In its order to both leaders, the Election Commission said that their highly provocative speeches had the "impact of aggravating existing differences or create mutual hatred between different communities..." the report said.
And finally, the high-voltage elections have reportedly sparked a division in Bollywood as well.
"The Hindi film industry, which prides itself on its secular image, appears to be taking sides for the first time," The Times of India reports.
A collective appeal launched by writer Anjum Rajabali says "while corruption and governance are important issues… India's secular character is not negotiable", the report adds.
However, not many in Bollywood agree with this initiative.
"Shocking to see some colleagues, under garb of stopping so-called divisive forces, are themselves dividing a secular place like Bollywood," filmmaker Madhur Bhandarkar tweeted.
BBC Monitoring reports and analyses news from TV, radio, web and print media around the world. For more reports from BBC Monitoring, click here. You can follow BBC Monitoring on Twitter and Facebook.