Indian media criticise BJP politician's 'inflammatory remarks'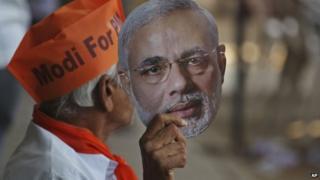 Media in India are criticising a "controversial and inflammatory" statement given by a politician of the main opposition Bharatiya Janta Party (BJP).
Giriraj Singh on Saturday said those who oppose the BJP's prime ministerial candidate Narendra Modi have no place in the country and should go to Pakistan.
The BJP has reprimanded Mr Singh, a candidate for the BJP in northern Bihar state, for his controversial remark, reports say.
Most newspapers are critical of Mr Singh's remark and say it seems to be aimed at polarising voters.
The Indian Express says the remark is a "deliberate message" and has clear "Hindu nationalist overtones".
"Mr Singh's words cannot be unsaid easily, and the fears they create will not end when election results are declared; they linger like a malevolent fog," the paper adds.
Hindi newspaper the Dainik Jagran says such comments are likely to harm the BJP, which is facing criticism from other parties for "polarising voters".
Meanwhile, the Jharkhand police have filed a case against Mr Singh over his statement, reports say.
Mr Singh's remark is the latest in a series of controversial comments made by politicians during their campaigns for the ongoing general elections.
The nine-phase vote began on 7 April and will conclude on 12 May. Votes will be counted on 16 May.
Campaign song
Meanwhile, the BJP has "quietly dropped" its main campaign song which was being aired repeatedly on several TV and radio stations, The Times of India reports.
The song shows Mr Modi taking a pledge that he would save India from destruction.
"The anthem's lines spoken by Mr Modi - 'main desh nahin jhukne dunga ... main desh nahin mitne dunga (I will not let the nation bow down/be rubbed out)' - are seen as needlessly dire and apocalyptic," the paper adds.
And finally, surrogate parents from across the country on Sunday organised an "awareness walk" in Delhi's Jawaharlal Nehru Stadium, The Times of India reports.
"Surrogate mothers…walked alongside genetic parents and their children", the paper says.
BBC Monitoring reports and analyses news from TV, radio, web and print media around the world. For more reports from BBC Monitoring, click here. You can follow BBC Monitoring on Twitter and Facebook.