Indian media: 'Anti-Muslim' remarks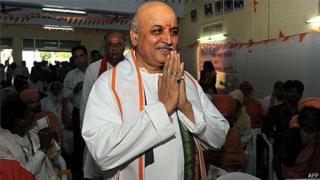 Media in India are criticising a Hindu nationalist leader's alleged "anti-Muslim" remarks in the middle of the ongoing general elections.
Praveen Togadia, a senior leader of the Vishwa Hindu Parishad (World Hindu Council), reportedly told his supporters to not allow Muslims to buy property in Hindu localities.
The Vishwa Hindu Parishad (VHP) was founded in 1964 by a group of senior leaders from a hard-line Hindu organisation, the Rashtriya Swayamsevak Sangh (RSS), to give Hindus what they believed would be a clearly defined sense of religious identity and political purpose.
Mr Togadia has denied the allegation and threatened to sue publications that carry reports on his "hate speech", The Times of India says.
The VHP is known for supporting the main opposition Bharatiya Janta Party (BJP).
Most newspapers feel such "inflammatory" remarks go against the BJP prime ministerial candidate Narendra Modi's overtures of religious harmony during recent speeches.
"The latest salvo allegedly from VHP leader Praveen Togadia has once again put the onus on the BJP to disassociate itself from his remarks," the Hindustan Times says.
The paper urges the BJP to "roundly and publicly condemn these divisive tactics".
The Indian Express feels the BJP leaders must prove that they do not choose between religion and development as and when it suits them.
"The onus is on the BJP to disprove the perception that its vote-maximising strategy involves employing several vocabularies, depending on the context and their utility," the paper says.
The paper worries that "it will be difficult to contain these violent energies" of the "hate-mongering fringe" if the Modi-led BJP forms a government.
However, Mr Modi has requested politicians to refrain from making such speeches.
"Petty statements by those claiming to be BJP's well wishers are deviating the campaign from the issues of development and good governance," he tweeted.
The police in Bhavnagar town in western Gujarat state, where the controversial speech was given, have filed a case against the VHP leader, reports say.
And finally, senior BJP leader LK Advani's official website was reportedly hacked on Monday, The Indian Express reports.
"The hacker, who called himself Muhammad Bilal, wrote 'Pakistan Zindabad' (Long live Pakistan) messages on the site and called for an end to militarised governance in Kashmir (Indian Kashmir)," the paper reports.
BBC Monitoring reports and analyses news from TV, radio, web and print media around the world. For more reports from BBC Monitoring, click here. You can follow BBC Monitoring on Twitter and Facebook.