Indian media: 'Crucial' voting phase of general election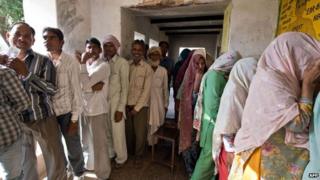 Media in India are highlighting the importance of the "crucial" sixth phase of the ongoing general election.
More than 180 million voters are eligible to vote in 117 seats in 12 states and union territories, including Tamil Nadu and Maharashtra.
India's commercial capital, Mumbai, Indian-administered Kashmir and the eastern state of Assam are also among the regions voting on Thursday.
"Stakes are high for the ruling Congress and the BJP [main opposition Bharatiya Janata Party] and a number of regional parties like AIADMK, DMK, NCP and Shiv Sena, as 117 constituencies go to polls in yet another substantial round of polling," reports the NDTV website.
Thursday's polling is expected to decide the fate of some smaller but powerful regional parties, who may act as kingmakers in the event of a hung parliament.
"Voting in the sixth phase will decide the fate of many political bigwigs and regional satraps," reports The Asian Age.
Newspapers and websites have captured this mood in their headlines.
"BJP, Congress in high stake fight today," says The Pioneer, while the Hindustan Times says: "Battle 2014 gets bigger today".
Pakistan ties
Staying with the elections, Priyanka Gandhi, daughter of India's Congress party Chief Sonia Gandhi, has strongly criticised the BJP's prime ministerial candidate Narendra Modi.
Talking to a group of women in Rae Bareli town on Wednesday, Ms Gandhi referred to allegations that Mr Modi's government in the western state of Gujarat had tapped the phone of a young woman.
"If you talk of women empowerment, you should stop tapping our phones. There is one leader who wrongs women. Be wary of him," The Indian Express quotes her as saying.
Elsewhere, Pakistan's envoy to India, Abdul Basit, says he is "encouraged" with Mr Modi's stand on foreign policy issues.
"His (Mr Modi's) response when a question was asked about Pakistan was very positive and that gives us hope that positive things will come... I am indeed encouraged," the NDTV website quotes Mr Basit as saying.
Mr Modi on Wednesday said he would take forward former PM Atal Bihari Vajpayee's principles on foreign policy.
"I believe mutual respect for one another and cooperation should be the basis for relationships with foreign nations," Mr Modi said.
And finally, the Election Commission has allowed citizens to "upload video and audio clips of inflammatory speeches, or distribution of cash or liquor among voters, on its website", the Mint website reports
The initiative is seen as the watchdog's bid to curb malpractices in the ongoing general election.
BBC Monitoring reports and analyses news from TV, radio, web and print media around the world. For more reports from BBC Monitoring, click here. You can follow BBC Monitoring on Twitter and Facebook.