India slum fire destroys 500 huts in Delhi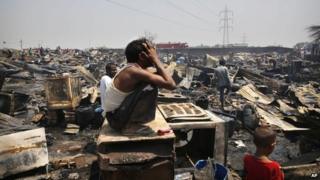 A huge fire has destroyed nearly 500 thatched huts in a slum area of the Indian capital, Delhi.
Dozens of fire engines were sent to Vasant Kunj area on Friday morning and officials said they took two hours to put out the flames.
Seven people were admitted to hospital with burn injuries, Associated Press quoted fire department official Shyam Lal as saying.
The cause of the blaze was being investigated, officials said.
Nearly half of the shantytown was reduced to smouldering piles of thatch and charred debris, AP reported.
"Fire was reported at 08:30 local time [03:00GMT] and fire tenders were immediately rushed to the spot. Plastic and wood kept in an open yard in the area also fuelled the fire," director of Delhi Fire Service AK Sharma told reporters.
Smoke filled the area as the fire spread and small cylinders kept in the huts exploded, he said.
Reports said the slum dwellers could be seen searching through the ashes, trying to salvage their belongings.
Correspondents say most of the slum's residents are poor labourers and day workers and now hundreds of them have been rendered homeless.