Indian media: Rahul Gandhi in poll controversy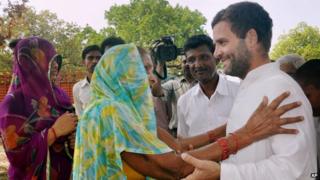 India's media have been highlighting a political controversy over Congress vice-president Rahul Gandhi's visit to a polling booth in his constituency of Amethi.
Mr Gandhi visited polling booths in the constituency, which is in the northern Indian state of Uttar Pradesh, when voting was in progress on Wednesday.
He represented the Gandhi-Nehru bastion of Amethi in 2004 and 2009, and is hoping to remain the MP there in 2014.
But he is facing a tough fight from the main opposition BJP's Smriti Irani and the Aam Aadmi Party's Kumar Vishwas.
His opponents say that Mr Gandhi violated election laws by entering a polling booth during voting, reports the NDTV website.
Some newspapers have published pictures showing Mr Gandhi inside a voting compartment.
The Congress party, however, says Mr Gandhi has not violated any law because he did not enter any voting compartment in the presence of a voter, according to the CNN-IBN website.
The Election Commission is yet to react to the reports.
'Record-breaking' turnout
Meanwhile, newspapers and websites are praising the high voter turnout in the second-to-last phase of polling on Wednesday, continuing a trend of high voter participation in these elections.
"The continued high turnout in the penultimate phase… has raised hopes of attaining the best-ever voting percentage in the history of India's electoral politics," The Asian Age reports.
Voting was held in 64 constituencies spread across seven states on Wednesday. The last phase will be held on 12 May and votes will be counted on 16 May.
"Voters turned up in large numbers in the eighth phase of polling on Wednesday to keep up a trend that has seen a high 66.27% turnout for 502 Lok Sabha (parliament) seats so far in the general election -beating the 57.94% turnout notched up in 2009 for the same seats," reports the Mint website.
And finally, a WHO report says India's national capital, Delhi, is "the most polluted city in the world when it comes to air quality".
The report has raised renewed concerns among environmental activists.
"Many factors contribute to this increase, including reliance on fossil fuels such as coal fired power plants, dependence on private transport motor vehicles, inefficient use of energy in buildings, and the use of biomass for cooking and heating," the report says, as quoted by the Firstpost website.
BBC Monitoring reports and analyses news from TV, radio, web and print media around the world. For more reports from BBC Monitoring, click here. You can follow BBC Monitoring on Twitter and Facebook.