Indian media: Modi's foreign policy 'masterstroke'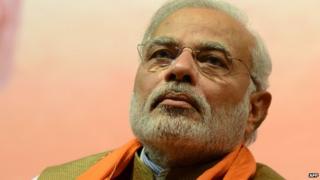 Media in India see PM-elect Narendra Modi's decision to invite the leaders of South Asian nations to his oath-taking ceremony as a foreign policy "masterstroke".
Mr Modi, who led his BJP party to a landslide win in the recent election, will be sworn into office on 26 May.
"This is the first time an incoming PM has invited foreign leaders for the ceremony, indicating that Mr Modi wants to break new ground in fostering relations with all the neighbours," says The Pioneer.
Among the invitees is Pakistan Prime Minister Nawaz Sharif.
The Asian Age calls it "a strategically-astute move expected to yield major diplomatic dividends", adding that the "surprise move… is seen as a masterstroke by Mr Modi to reach out to the immediate neighbourhood".
Newspapers are capturing the sentiment in front-page headlines.
"Neighbours invited to Modi's party," reads the Hindustan Times' headline.
The Times of India's editorial headline says: "Neighbourly invite: Incoming Modi government should expeditiously reset stalled regional ties."
The paper described the decision as "a positive signal" and adds that the "relations with India's neighbours deserve the highest possible emphasis".
It hopes that the incoming BJP government will "adopt a pragmatic approach to foreign policy".
Some experts say Mr Modi is trying to dispel the notion that he has a "hawkish approach" towards foreign policy.
"Mr Modi's willingness to engage Pakistan early in his tenure surprised many, given the hard line he adopted during his election campaign," writes Praveen Swami in The Hindu.
'Political drama'
Staying with political news, newspapers and websites are criticising the "drama" surrounding the arrest of the leader of the Aam Aadmi Party (AAP), Arvind Kejriwal.
He is being sued by BJP leader Nitin Gadkari for calling him "corrupt". He was arrested for refusing to pay 10,000 rupees ($170; £100) as a bail bond.
"Arvind Kejriwal on Wednesday sought to drum up drama and sympathy by refusing to furnish a bail bond," says The Times of India
The paper adds that voters will "not forget and and forgive" this political "drama".
"The drama unfolded on a day Arvind Kejriwal apologised to the people of Delhi for resigning as the chief minister," says the CNN-IBN website.
The Pioneer says: "Kejriwal, AAP back to street politics with arrest drama."
'Rich Shah Rukh Khan'
Meanwhile, Bollywood actor Shah Rukh Khan has emerged as the second richest actor in a combined list of both Hollywood and Bollywood, The Times of India reports.
According to the rich list released by Wealth-X, a leading net worth intelligence firm, Khan was "found to be richer than Hollywood giants like Tom Cruise, Tom Hanks, Clint Eastwood or Adam Sandler".
"Khan is estimated to be worth 600 million dollars (£355m). Immensely popular around the globe as well as in his home country, India, Khan is also a producer, TV host, co-owner of an Indian cricket club and a philanthropist," the report quotes Wealth-X as saying.
And finally, a toilet museum in Delhi has been ranked third among the world's 10 weirdest museums by Time magazine, the Hindustan Times reports.
The museum traces the history of the toilet for the past 4,500 years, it adds.
It is run by non-governmental organisation Sulabh International, which works to improve sanitation in India.
BBC Monitoring reports and analyses news from TV, radio, web and print media around the world. For more reports from BBC Monitoring, click here. You can follow BBC Monitoring on Twitter and Facebook.